Natalie Portman's 'Black Swan' double performs in YBC's Bozeman production
Yellowstone Ballet Company presents two spectacular gala performances of Black Swan at 7pm on Saturday, June 25th, at the Emerson Center's Crawford Theater in Bozeman, and at 4:30pm on Sunday, June 26th, at the Shane Lalani Center's outdoor theater in Livingston. Both will be followed by a lightly-catered "Meet & Greet" with photo opportunities and an interactive artists' panel with the national and international professional cast members.
Sarah Lane, a principal dancer of the American Ballet Theatre and Natalie Portman's dance double in the movie Black Swan will be featured at the Bozeman gala only. Portman won an Oscar for her performance of a tormented ballerina although Lane purportedly performed the majority of the dancing.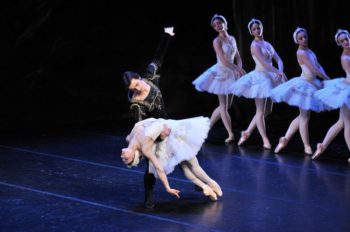 Lane joined American Ballet Theatre as an apprentice in August 2003, became a member of the Company's corps de ballet in 2004 and was appointed a Soloist in 2007. She was promoted to Principal Dancer in 2017. Her principal roles with the Company productions include La Bayadère, Coppélia, Le Corsaire, Don Quixote, Giselle, The Golden Cockerel, The Green Table, Harlequinade, Manon, Onegin, Other Dances, The Sleeping Beauty, Le Spectre de la Rose, Swan Lake, Les Sylphides, Theme and Variations, among others.
Fiona Lee of the world-renowned Royal Danish Ballet will be returning to Montana from Copenhagen to perform The Flames of Paris at the Gala. Ms. Lee began her ballet training at the age of five at the Yellowstone Ballet Academy in Livingston and studied under Artistic Director Kathleen Rakela for eight years, during which time she performed with YBC and staged a mini-version of Swan Lake to raise money for the Academy's Scholarship Fund. At age thirteen Ms. Lee moved to New York City after receiving a full scholarship to The School of American Ballet's summer program and then an invitation to attend their highly selective year-round program through high school.
Ms. Lee has not performed in Montana since 2015, when she returned from NYC to perform the lead in YBC's original ballet The Little Mermaid. Ms. Lee describes the opportunity to perform Flames of Paris as a "dream," having learned the variation over Zoom during the pandemic while practicing alone for several hours a day. She will be dancing with Arcadian Broad of Sarasota Ballet.
Arcadian has appeared on national platforms such as America's Got Talent, Ellen and So You Think You Can Dance, and has performed on Broadway as Billy Elliot. He won a scholarship to the Orlando Ballet summer program at the American Dance Competition when he was 14 and was hired by the Orlando Ballet as the youngest dancer in their history under Artistic Director Robert Hill. He was a Principal Dancer with the company for eight years, and also the first ever Artist in Residence. Arcadian performed numerous lead roles such as Romeo (Romeo & Juliet), Basilio (Don Quixote), Prince Siegfried (Swan Lake), Jonathan Harker (Dracula) and masterpieces by Jerome Robbins, Twyla Tharp, Jessica Lang, and George Balanchine.
The gala will include the exquisite Molly Huempfner Groeschl, a Montana native who began her dance studies in Bozeman. She has performed professionally with Tucson Ballet, Ballet West, Milwaukee Ballet, Colorado Ballet's Studio Company and Madison Ballet. Some of Ms. Groeschl's featured roles include "Second Violin" in Balanchine's Concerto Barocco, "Russian Girl" in Balanchine's Serenade, "Purple/Principal Girl" in Arpino's Birthday Variations, "Pigtail Girl" in Graduation Ball, the Bride in The Little Mermaid, and "The Sugarplum Fairy" in The Nutcracker, among others.
Francisco Estevez, who originally hails from Ecuador, will partner with Ms. Huempfner-Groeschl. Mr. Estevez has danced with Boston Ballet, Barcelona Ballet and most recently with the Colorado Ballet as a Principal dancer. His notable roles include those in Balanchine's Tarantella and the first and second themes from The Four Temperaments; first and third Sailor in Robbins' Fancy Free; Twyla Tharp's In the Upper Room, the Jester in Ben Stevenson's Cinderella, James in La Sylphide, Tybalt and Mercutio in Derek Deane's Romeo & Juliet, Prince Desiree and Blue Bird in The Sleeping Beauty, Basilio in Don Quixote, and Jirí Kylián's Petite Mort.
In addition to classical pas de deus, Yellowstone Ballet will be reprising scenes from Kathleen Rakela's original The Song of Hiawatha. This three-act ballet was performed in 2005 with dancers from the Paris Opera Ballet, Pacific Northwest Ballet, Cincinnati Ballet, Moscow Ballet, and Houston Ballet. It includes narration from Henry Wordsworth Longfellow's epic poem by Broadway actor, singer, and orator Robert Worobec.
Cameron Fraser-Monroe, a member of the Tla'amin First Nation in Powell River, B.C. will perform the role of Hiawatha. Fraser-Monroe first studied Ukranian dance as a child. He received an Royal Winnipeg Alumni Scholarship and trained and danced with the Royal Winnipeg Ballet. He currently dances with the Atlantic Ballet of Canada.
Yellowstone Ballet's gala is a fundraiser to support young indigenous dancers to train, rehearse and perform with the company.