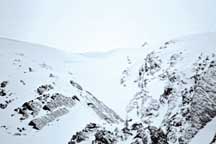 MSU researchers seek answers to what drives risk-taking in avalanche terrain    
                                    From MSU News Service
                  Thirty-four people died in avalanches in Montana between the 2008-09 and 2016-17 winter seasons, and Montana consistently ranks among the states with the highest number of avalanche deaths annually, according to the Colorado Avalanche Information Center.
                  "With a recent snowmobile death in West Yellowstone in early January, the southwest Montana/Idaho region is now, sadly, leading the nation," said Jordy Hendrikx, an associate professor in the Department of Earth Sciences in MSU's College of Letters and Science.
                  Hendrikx, who also is director of the Snow and Avalanche Lab at MSU, has led research projects and workshops on safety in avalanche terrain aimed at reducing those numbers. One such project with MSU political scientist Jerry Johnson, called SkiTracks, had the researchers collect data submitted by backcountry skiers and snowmobilers to examine who was venturing into the backcountry and where they were going, with particular emphasis on what decisions they made while out there. The project, which began in 2013, was featured in The New York Times.
                  Now, Hendrikx and Johnson have teamed up with Norway-based, Swedish behavioral economist Andrea Mannberg in a new project that takes their previous research a step further. This new White Heat project delves into the reasons people take risks that could potentially cost them their lives.
                  "We're trying to understand the 'why,' and what the motivations are behind the 'why,'" Hendrikx said. "By understanding the 'why,' we can then look at how we can make them safer through targeted education."
                  Mannberg, who is spending her sabbatical at MSU, said she began mulling that question in 2013, when she started to examine her own behavior as a backcountry enthusiast.
                  "I've always wondered about the risks that we take when we're out there and what drives us," Mannberg said. "I started wondering if the risks I take are risks that I really want to take or if I take higher risks than I usually would when I'm with my friends or because I want to present myself in a certain way."
                  She was looking for a way to turn those thoughts into research when she landed a job at The Arctic University of Norway, which is located in an area with a large community of backcountry skiers. She spent the first semester there considering how to apply her economics background to her questions, the way she had for her doctoral research of sexual risk-taking and AIDS. When, at a conference in Norway, she heard a talk by Markus Eckerstorfer, a collaborator on SkiTracks, she hoped that she had found her project.
                  "He told me to contact Jordy, and we had a really good talk and started sharing ideas and developing (White Heat)," she said. "The project was granted funding by the Norwegian Research Council in December 2016 and started in May 2017."
                  Using Mannberg's behavioral economics expertise in both weighing costs to benefits — or risk to reward — and in a theory about decision-making, the team hopes this new approach will fill a void in avalanche safety training, which has traditionally focused on snow science. Hendrikx said the current trend in understanding accidents is toward looking into human actions, particularly since most people who die in avalanches are also the ones who trigger them.
                  "Andrea brings a whole different skillset to this research, and now we can start asking some really deep and meaningful questions about behavior and motivation that, ultimately, are going to save lives," Hendrikx said. "That's what it's all about."
                  He said that White Heat is the first avalanche-focused work coming from an economics perspective that he's seen.
                  "It's looking at this problem through a unique lens and connecting it to well-established theorems that are well-tested in one world and taking those ideas and that wisdom and history and literature and applying it to this really important setting," Hendrikx said.
                  The work is personal, too. In 2015, one of Hendrikx's undergraduate snow science students died in an avalanche while skiing in Colorado.
                  For Mannberg, it became personal in 2014 when she, her partner and her best friend — all of whom are well-versed in avalanche safety — were caught in an avalanche they triggered while on a backcountry ski tour in Sweden.
                  "The snow was really good in the Swedish mountains, but there was a persistent weak layer and we made a lot of mistakes and misinterpreted information," Mannberg said.
                  After seeing signs of unstable snow, the trio decided to turn back, but, rather than walk down, they decided to head for a steeper slope and ski down. That's when they heard the telltale "whoomph" of snow collapsing.
                  Mannberg said she took a few steps back, then looked up the mountainside to see a 6-foot-tall wave of snow headed for them.
                  "I had no idea what speed it reached, but I reached for my avalanche backpack and I didn't even have time to pull the release trigger," she said. "It was seeing the wave, reaching, and then it hit me over my head."
                  All three were partially buried in the 1,000-foot-wide avalanche. Mannberg broke both legs and a rib and cracked her chin. Her friend had more serious leg injuries, yet all three skiers made it down the mountain in a grueling trip that took most of the day.
                  "That was a true wakeup call that my decisions in the backcountry weren't always the right ones, even though I see myself as very conservative in my decision-making," Mannberg said. "I don't like risks."
                  Despite her terrifying experience, Mannberg said she still tours the backcountry because it provides the peace, exercise and cognitive training that contribute to good physical and mental health — and that's one of the key points of this project.
                  "As an economist, I think of costs and benefits, and the benefits of being out in the backcountry are huge," Mannberg said. "This work is to limit the costs so we can enjoy the benefits."
                  Johnson said the work is particularly relevant given the number of MSU students who seek adventure in Montana's backcountry.
                  "There is a direct line between MSU's tagline "Mountains and Minds" and this research," he said.
                  Backcountry skiers and snowmobilers of all ages and experience who want to contribute to the study can take the project survey at https://montana.qualtrics.com/jfe/form/SV_74aRQuWMj0wbJHv and also submit GPS tracking information of their trips. Instructions can be found at www.montana.edu/snowscience/tracks.html.
                  For more information about the project, go to https://whiteheatsite.wordpress.com. •