Montana festival rock n' rolls into watershed valley for '22 event
The Treasure State's rowdiest, guitar-heavy weekend is upon us with the summer return of Rockin' the Rivers. Event promoters are thrilled to offer fans of the genre a hard-driving escape with performances set for Thursday through Saturday, August 11th–13th. The festival is back at The Bridge near Three Forks, celebrating more than two decades with its 2022 event.
This year's festival will feature headlining performances by Don Felder of the Eagles, Extreme and Daughtry, as well as sets by Jefferson Starship, Buckcherry, Scott Stapp of Creed, Vixen, Quiet Riot, Dorothy, Kozmik Dreamzz, First to Eleven, Stranded by Choice, Jarad Stewart, Blistered Earth, Limberlost, Big House Project and Dead Fervor, among others.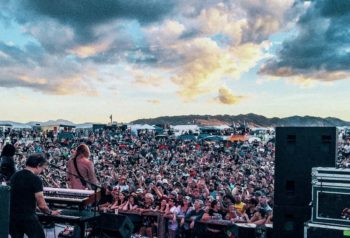 As always, numerous regional acts will take to the stage to warm up the crowd including Chain Reaction, Push, Larry Myer, Kenny James Miller Band, 2am Logic, Savvy, 3 Miles to Clyde, Voice of Treason, 50 Watt Sun and Voodoo Cadillac.
Celebrate with some of rock's favorite legends and the hottest up-and-comers. Stay to revel in the party that is uniquely Rockin' the Rivers, Montana's largest and most loved rockfest. Tickets, camping and parking passes are now on sale through the event website. New in 2022, these will be sold separately so festival-goers can build their weekend with flexibility.
For two decades, Rockin' the Rivers has been bringing the music of rock legends to Montana for a three-day rock festival – the only one of its kind in the state. The legacy will continue in 2022! Visit www.rockintherivers.com for ticketing information and official outlets, camping info, and more on the festival and its awesome rockin' acts! •