Shop creations from hundreds of regional artists at the annual Bozeman Fall MADE fair at Brick Breeden Fieldhouse
The Bozeman Fall MADE fair has been announced for early next month, with event organizers excited to connect artists with the Gallatin Valley community once again. The event will take place at Brick Breeden Fieldhouse on Friday and Saturday, October 6th and 7th. Friday is VIP Night from 5–8pm, with early bird admission on Saturday at 9am and general admission from 10am–4pm.
Shop and discover a curated collection of 195+ local and regional artists. You can expect to see everything from affordable, functional works of art to fine heirloom pieces at the show. Make a day of it with your friends and enjoy strolling the aisles and supporting your local artists.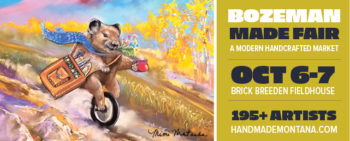 Though entry and parking are free to attendees during the main Saturday event, those interested in a head start on shopping can purchase a $10 Friday VIP Pass for an exclusive shopping experience from 5–8pm the night before the event opens to the public. Beat the crowds with a $5 Early Bird Pass to gain entry from 9–10am on Saturday. Proceeds will benefit Random Acts of Silliness, a theater and visual arts organization inspiring laughter and play in the Gallatin Valley. Attendees: please bring a non-perishable food item to help support the Gallatin Valley Food Bank.
Visit www.handmademontana.com for additional details, access to VIP tickets, and to pre-shop all of the participating artists.
The MADE fair is a modern art and handcrafted market featuring local and regional artists and makers. Events are a curated collection of skilled artisans as well as a handful of non-profits. The MADE fair's mission is to increase awareness of handmade goods as an alternative to mass-produced items and support local and regional small craft businesses by providing a place to sell their goods.
handMADE Montana provides opportunities to artists of all levels, from the hobbyist to the seasoned professional. It has been awarded 'Retailer of the Year' by the Made in Montana program. •