The Montana Chamber Music Society welcomes the annual return of the Boston-based Muir Quartet with a phenomenal winter performance on Friday, December 9th. The concert will be held at Reynolds Recital Hall on the Montana State University campus. Music begins at 7:30pm.
The Muir Quartet is a favorite with Montana music lovers and has distinguished itself among audiences and critics with its exhilarating involvement, impeccable voicing and intonation, and unbridled musicality.
In its 43rd season, Muir Quartet has long been acknowledged as one of the world's most powerful and insightful ensembles, distinguishing itself among audiences and critics with its "exhilarating involvement" (Boston Globe),"impeccable voicing and intonation" (San Francisco Examiner), and "unbridled musicality" (American Record Guide). In residence at Boston University, the quartet has toured worldwide including concerts at the White House and Carnegie Hall plus over 50 tours of Europe and the Far East. The Muir Quartet is Michael Reynolds (cello), Lucia Lin (violin), Peter Zazofsky (violin) and Steven Ansell (viola).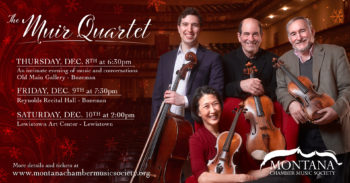 Admission to all Montana Chamber Music Society performances is $30 for adults, $20 for seniors, and $10 for students. Tickets may be purchased at www.montanachambermusicsociety.org. These are also available at the door, depending on availability. Net proceeds from these programs support MCMS's mission to present great chamber music performances throughout Montana year-round.
Muir Quartet will likewise front two additional shows as part of their Montana tour. "An Intimate Evening of Music & Conversations" will be held at Downtown Bozeman's Old Main Gallery on Dec. 8th, as well as a performance at the Lewistown Art Center on Dec. 10th. Visit the MCMS website for tickets and additional details. •