At long last, the unique live and virtual experience that is the BZN International Film Festival returns! The fifth annual event will take place late this month, Friday and Saturday, January 27th and 28th, at the Emerson Center for the Arts & Culture, as well as through the BZN app.
Featuring films from around the globe and from our own backyard, this year's films inspired, question and celebrate what it means to be human – and what it means to live in harmony with our amazing environment.
BZN is a two-day event located in Big Sky Country, dedicated to fostering intelligent filmmaking, understanding diverse points of view, and restoring media literacy. The BZN vision is to highlight films that make a positive impact on audiences – stories that showcase the best of the human spirit while inviting a call to action.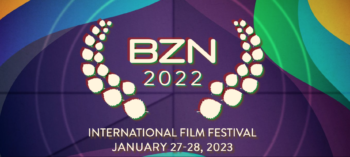 Event organizers champion films that educate and enrich while they entertain: documentaries, indies, comedies, features and shorts that make the cut must be intelligent and thought-provoking, inspire curiosity and encourage community and global awareness. Above all, they should stimulate conversation – a lost art BZN is determined to help restore.
Virtual access will be enhanced with a year-long festival experience celebrating independent filmmaking and creative expression from both emerging and established voices.
Visit www.bozemanfilmcelebration.com for tickets, a complete list of film selections, and to learn more about the festival. Follow BZN on social media for the most up to date event details and announcements. •