The Livingston Film Series presents the 2021 documentary Fathom at 7pm on Thursday, February 9th in the Dulcie Theatre at the Shane Lalani Center for the Arts.
Directed and photographed by Drew Xanthopoulos (The Sensitives), Fathom follows Dr. Ellen Garland and Dr. Michelle Fournet, two scientists focused on the study of humpback whale songs and social communication. As they embark on parallel research journeys on opposite sides of the world, they seek to better understand whale culture and communication.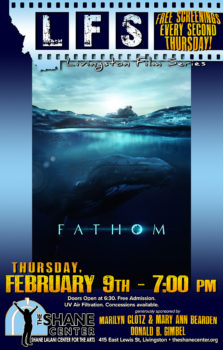 The documentary film uniquely reveals a deep commitment and reverence to the scientific process and the universal human need to seek answers about the world around us. From hypothesis to groundbreaking experiences in the field, Fathom showcases the passion, curiosity, collaboration, perseverance and work it takes for leading scientists to make scientific discoveries.
The Livingston Film Series is in its seventh season of screening independent features, documentaries, local films, and vintage classics – absolutely free – on the second Thursday of every month in the Dulcie Theatre at the Shane Lalani Center for the Arts. Concessions are available before the show. UV air filtration in the Dulcie Theatre and lobby.
Doors open at 6:30pm, with screenings to follow at 7pm. While admission is free, donations are gratefully accepted. For more information, please visit www.theshanecenter.org.
Livingston Film Series is generously sponsored by Marilyn Clotz & Mary Ann Bearden and Donald B. Gimbel. •