Live performance lights up the Ellen stage with ensemble shows
Following its grand re-opening with the return of independent film screenings last month, Downtown Bozeman's Ellen Theatre welcomes one of the most imitated and envied singing groups of all time to the stage. The Kingston Trio is set to perform on Thursday, October 14th. The music starts at 7:30pm.
This is the musical threesome that helped create the folk scene of the late 1950s and early '60s, influencing the careers of Joan Baez, Bob Dylan, Paul Simon and many more. Current members Mike Marvin, Tim Gorelangton and Don Marovich – all of whom have intrinsic links to the original group – will perform timeless classics such as "Where Have All the Flowers Gone?," "Tom Dooley" and other hits from the band's five number-one albums. Enjoy great songs that sound as good today as the first time you heard them! Tickets start at $32.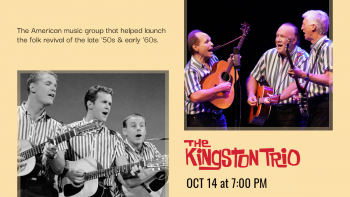 Following on Thursday, October 28th, kick off the weekend with a stirring performance by the Rastreilli Cello Quartet. The genre-bending stringmasters will perform at 7:30pm.
This singularly unique ensemble has been thrilling audiences with their renderings of non-traditional programming since 2002. Kira Kaftzoff, founder and artistic director, Kirill Timofeev, Misha Degtjareff and Sergio Drabkin formed the ensemble with a mission to perform music "between the genres." Their widely varied programs comfortably mix works by Bach, Saint-Saens and Tchaikovsky with that of George Gershwin, Dave Brubeck and Leroy Anderson. Come see why the Irish Times wrote of the group, "Musical purpose and personal camaraderie that is infectious!" Tickets are $30.
A peek at what's to come: hometown favorites Storyhill are back for a show Dec. 8th, and the new year will see the returns of International Guitar Night, comic Paula Poundstone and a performance by the Montana Mikado.
Wine, beer and concessions will be sold in the lobby one hour before each event. Ticketing and further information about these and other upcoming happenings is available at www.theellentheatre.org. For additional inquiries, call the box office at (406) 585-5885. •