Joyous Baltimore jammers bring Presto tour to Treasure State
Big Sky Country is set to welcome the return of Pigeons Playing Ping Pong for a pair of Montana shows as part of their winter tour. The stops coincide with the recent release of their new album, Presto.
The Baltimore-based ensemble brings end-of-the-world enthusiasm to their high-energy psychedelic shows. Their infectious electro-funk grooves, undeniable live energy and contagious smiles have their rabid fanbase ("The Flock") growing exponentially. This animated quartet has been scorching up stages across the country with their explosive performances and danceable peaks.
In anticipation of their local performances, the Rolling Zone spoke with frontman "Scrambled Greg" Ormont about the new album and potency of positivity.
Rolling Zone: Pigeons just kicked off its winter tour, coming off of two sold-out shows at the Troubadour in West Hollywood. Based on these first few dates, can you forecast how you think this outing will be remembered in the Pigeons legacy?
Greg Ormont: This is our first tour supporting Presto. We're playing a bunch of material off the album, and we've also been working on a ton of new material since so hopefully it'll mark a couple tour debuts down the line. We're also touring with our friends Goose which really makes it like a two-bird, feathered friends tour. I think it'll go down as avian friendly.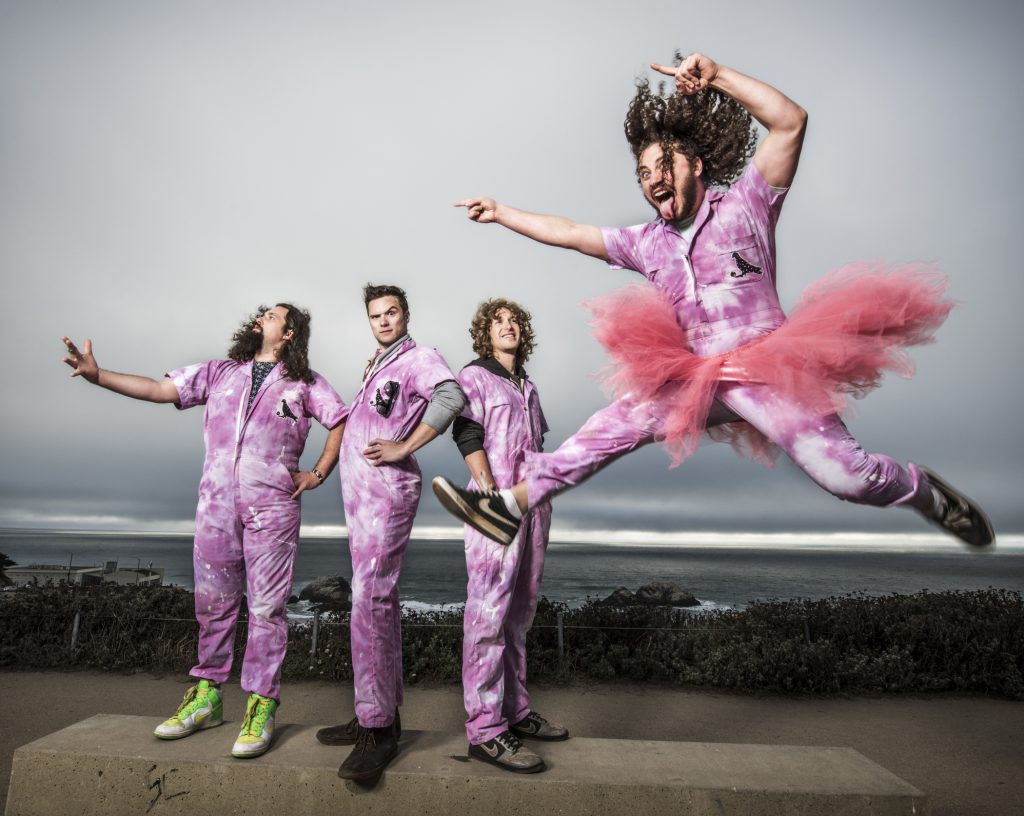 RZ: You've had a few unrelenting years, playing some of the biggest stages and festivals to rooms of the more intimate variety. The Montana stops – at the Top Hat and Rialto – fall somewhere in the middle. Does the band feel limited by smaller venues, or do you guys just hope the space can handle what you're putting out?
GO: I think we're really good at adapting to each setting. It's important to read the room, read the crowd and let the energy flow the way it's supposed to. If anything's limiting, it's more so our lighting production. Sometimes you can't set up a whole package [in] smaller rooms. When we have the space, we go pretty hard in terms of making an epic, memorable light show. Our lighting designer has a number of packages that will fit the shape of the stage and service the room properly. As a jam band, we're used to adapting and changing things on the fly and making it the best night we can.
RZ: Let's dig into Presto. The band's fifth studio effort released just a few weeks ago, following lead-off singles "King Kong," "Dawn a New Day" and "High as Five." Though much of the material was road-tested on Pigeon devotees – "The Flock" – ahead of its official release, how have audiences been responding to the new record?
GO: It's been going great. All of our fans are very much into it, and hopefully we're able to turn some new heads with the material. I had a particularly fun time working with the Here Come the Mummies horns [on "King Kong"]. They're just a really powerful, talented bunch of wacky dudes that we love hanging out with. I'd like to think [the fans] are enjoying it. Like I said, you put out an album and promote and tour it, but we're also writing new music constantly. Our sound checks these days have been devoted to new material to keep our insatiable Flock happy.
RZ: Presto arrives only a few years after Pizazz, and you're already working on new music. Is there a particular statement you're looking to make with your originals?
GO: We really pour ourselves into every album and try to make each song a little better, whether down to the songwriting or just the effort we put into it. We're not trying to skip any steps – we just want to take baby steps in the right direction, give it our all and make sure we did everything we could to be confident with the finished product [before] putting our stamp of approval on it. Overall, the message of our band is to kind of spread positivity and put good energy out in the world, lift people up if they need it and allow them to have an outlet to have fun and not take themselves so seriously. There's a marriage between being goofballs and also putting out music that we feel is properly written and something we can stand behind. We really like to have fun and cut loose on stage, try to bottle up that energy and pour it into the studio.
RZ: You've declared the live show audience a sort of unofficial member of the band. How do think their contributions transfer from the show to the studio?
GO: We were touring really hard [before Presto], testing out a bunch these songs and getting feedback from the most important people, which is our fans who are going to inevitably enjoy the album. They really play a big role in the song structures. When we play them live, we notice if fans are enjoying certain sections or are ready for the next section to come. They let us know what's working and what isn't. We had been touring relentlessly and went directly into the studio when we got home. We were able to have such a recent memory of the fans' reactions that we were almost visualizing them while we were recording. They really inform a lot of our decisions live, and that translated directly into the studio.
RZ: It's been a decade since the Funk EP introduced Pigeons to the world. Is that music the band still aligns with? Or do you think it's too far removed from what you've evolved into?
GO: We played something off Funk at our last show. We have a pretty big catalog at this point, but we also like to throw it back to the origin songs that got us to where we are now. When you practice and write all the time, you can go back to some of these older songs and have more of a musical acumen [to] apply and lift them up a bit. We have fun playing all of the songs that we've written because they're like our babies. It brings us back to those early college-era days when we first started writing and playing local clubs and basements, and we were crashing on people's floors and couches. When we play those songs, it's like a trip down memory lane [with] a few more tools in our toolbelt to bring them to life a little more.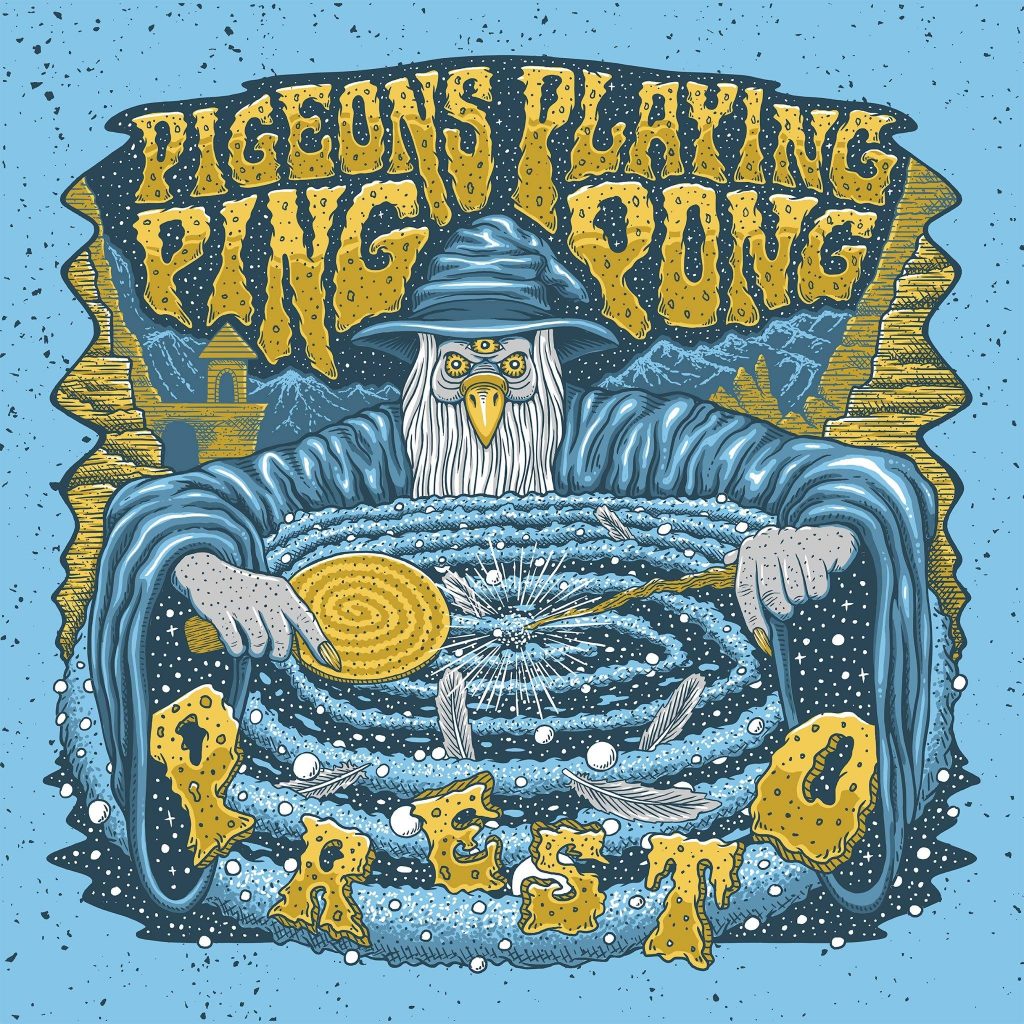 RZ: The band has a longtime collaboration with art and its creators, the Presto wizard pigeon courtesy of One Drop Design from your native Baltimore. Whether for tour posters or album covers, how does including the various art reinforce the Pigeons brand?
GO: The artwork has been amazing. With the name 'Pigeons Playing Ping Pong,' I think we've given our tour poster and album artists a lot to work with. Some of our peers have these one-word band names that maybe don't mean anything and the artist has free range to work those letters into the art, whereas we'll typically get a lot of spins off of birds or ping-pong paddles, or a variety of word association art that has become just beautiful. It's been an honor to work with these artists. The tour posters we've been putting out are really something you might want to put in a frame. It's pretty wild to look back on our guitarist, Jeremy Schon, making our tour graphics and logos, to nowadays working with some seriously talented artists. What's cool about One Drop, we've been working with Owen [Murphy] for so long. I actually think it might have been New Year's 2013 when he did his first-ever show poster for us. Fast forward several years and he's done art for a number of our albums. He's been working with some incredible bands like Dead & Company, he's been making labels for local craft beer companies, and is really just killing it. We're super proud to be along the journey with him and watch his career unfold.
RZ: Devoted to positivity, you recently launched the Dawn a New Day Foundation to promote causes important to the greater Pigeons community, including mental health. What can you tell us about the new initiative?
GO: Dawn a New Day is my pride and joy right now. We've been fortunate enough to do this full-time for quite a while, and as we continued to play, we felt the love of our fans and the people we were meeting from state to state. It's been long discussed to give back to those communities and do something bigger than music. One of the things I think about on stage, we play these shows and everyone's typically feeling euphoric and excited. My goal is for them to take that good, positive energy and go out in the world and do something with it so it doesn't just dissipate afterward. The Foundation is the epitome of that, taking this amazing community, activating us, using that energy to do something good in the world. A dollar of every ticket from Presto tour is going to be donated through Dawn a New Day to our first official partner, Backline. Backline.care is a new hub for mental health resources and support for anyone who's having issues, particularly in the music industry. It came on the heels of a few tragic deaths of industry folks who maybe did not have the resources they needed to get through the tough times on the road. I think the mental health conversation is just now coming to the surface and I'm very excited about that. There's nothing wrong with needing some assistance in this crazy world we live in. Backline is a great first partner to work with because we're all about promoting positive activity, positive energy and letting people know that they're surrounded by friends whether they know it or not.
RZ: "Dawn a New Day" is obviously a song on the album.
GO: It's really a song about mental health. The lyrics contain a lot of positive ways to deal with the stresses of life, whether it's to cut loose and listen to some hip-hop if you're feeling angry, or maybe to indulge in chocolate cake, or even to cry. There's a lot of great ways to deal with life's curve balls. "Dawn a New Day" and the Foundation are like promoting options for people to make it through to the other side, learn something from it, and continue to be happy in the life they lead.
RZ: The winter tour pours right into festival season, so we've got an idea how at least the front half of 2020 looks. Considering where you're at and what lies ahead, hoping for a point of reflection you'd like to offer at this phase of Pigeons' story.
GO: When I think about this journey, the only world that comes to mind is grateful. This has become our career and livelihood, but we really do this for fun. From jamming in a friend's basement in college with just a few buddies to playing sold-out theaters or our first arena show on New Year's Eve, it still has that honest, genuine, fun energy. It's crazy. Life goes by so quickly for everyone, and when you're on tour, everything is sort of scheduled out hour by hour. When you think of it that way, it's kind of slow paced. Then before you know it, the whole tour's over. So, my main goal now is to just live in the moment, appreciate the great times, and give it our 1000% energy. We feel very fortunate to have the opportunity to tour with our best friends and create music that people enjoy. We want to make sure when it's all said and done, we did everything we could to not only give it our all, but also enjoy the ride.
RZ: Something else to look forward to, the 11th annual Domefest is coming up later this spring. Can you give a preview?
GO: Domefest is a really special event we throw at this beautiful place called Marvin's Mountaintop in West Virginia. I know it's far from Montana, but it would be worth every penny to come and check it out. The band plays a lot of big festivals now like Bonnaroo, and as a result we like to keep Domefest incredibly intimate. We put a cap on the attendance so it doesn't get too big for its britches and people are able to have human connections and make new friends. We'll have two stages next to each other, and there's no overlapping sets so everyone gets to see the same concert and share an experience. There will also be some other great bands like Spafford, SunSquabi, TAUK and a lot of regional and national up-and-comers. We're actually doing a special set called "TAUKing Pigeons" – we've jammed with them in the past, but this will be the first official collaborative set. And we'll also have the Domefest All-Stars, which is a live collaboration of past and present Domefest alumni playing together in a never before seen cast of musicians. [Marvin's Mountaintop] is one of our favorite places in the world, and Domefest is a really special event anyone would have a good time at.
RZ: A final message before the Montana shows?
GO: We're really excited to be back. Montana is one of the most beautiful areas in the country, so I'm looking forward to getting back.
Pigeons Playing Ping Pong take Downtown Bozeman's Rialto stage on Wednesday, February 26th. The music begins at 8pm. Advance tickets to this all-ages show are $25 at www.logjampresents.com/rialto (plus service fees). Doors at 7pm.
Missoula's Top Hat Lounge hosts a 9pm show the evening prior, Feb. 25th. Tickets and additional details also available through the Logjam website.
Pigeons Playing Ping Pong is Greg Ormont (lead vocals, guitar), Jeremy Schon (guitar), Ben Carrey (bass), Alex Petropulos (drums, electronics) and Manny Newman (lights).
Learn more about the band at www.pigeonsplayingpingpong.com or find them on Facebook for updated tour details and other announcements. Follow on Instagram and Twitter. Their new album, Presto, is available now. Stream on Spotify and Apple Music. •