Eat at your favorite restaurants, support Community Café      
The Community Café is pleased to partner with Bozeman restaurants to bring you Dine to Donate. During the week of June 4th–10th, some of your favorite local restaurants and tasting rooms will donate a portion of your tab to the Café. Participating eateries will include Sola Café, Red Tractor Pizza, Dave's Sushi, The Coffee Pot Bakery Café, Café Fresco, Starky's Authentic Americana, Lockhorn Hard Cider, Open Range, and Five on Black.
Check out the official schedule at www.cafebozeman.org or visit the Facebook event page for updates. Dine to Donate is a great way to visit your favorite Bozeman restaurants AND support the efforts of The Community Café.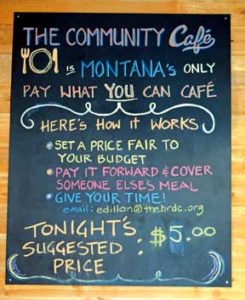 The Community Café is open Sunday through Friday from 5–7pm and offers a pay-what-you-can model to customers. Each evening features a rotating menu with fresh, wholesome food locally sourced from the community. Due in large part to the generous support from its diners, community supporters, and volunteers, the Café was able to serve 50,115 meals in 2016. Bring a friend or neighbor to the Café and enjoy it for yourself! The welcoming space is located at 302 N. 7th in Bozeman —everyone is welcome. •