History of Chinese experience in Montana is subject of May 17 Doig Center lecture
Notre Dame professor Mark Johnson will discuss his new book, "The Middle Kingdom under the Big Sky: A History of the Chinese Experience in Montana" at a lecture set for 6 p.m. Tuesday, May 17, in the Hager Auditorium at the Museum of the Rockies.
Sponsored by the Ivan Doig Center and the Extreme History project, the event is free and open to the public. Books will be available for purchase, and Johnson will sign books after the lecture.
Johnson has mined large collections of documents left by Chinese pioneers, translated into English for the first time as part of his research for the book. Chinese immigrants made up more than 10 percent of the Montana Territory's population, and they played a key role in the region's development, he found. The collections he researched, spanning from the 1880s through the 1950s, provide insight into the pressures the Chinese community faced both from family members back in China and from non-Chinese Montanans.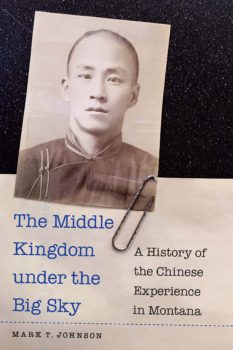 "The story of Montana's Chinese community has often focused on sensational elements—exoticizing Chinese Montanans and distancing their lived experiences from our modern understanding," said Mary Murphy, Montana State University professor in the Department of History and Philosophy and director of the Doig Center. "Through their own voices, Johnson reveals the agency of Chinese Montanans in the history of the American West and China."
Johnson is a professor in the Faculty of Supervision and Instruction at the University of Notre Dame. He attended Carroll College and was the chair of the English department at the Concordia International School in Shanghai for eight years. He said he established National History Day in China and trained hundreds of teachers across Asia to implement a project-based learning approach. His students in Shanghai became crucial researchers in his project on the history of Chinese Montanans.
For more information, go to the Doig Center's website, montana.edu/doig. •