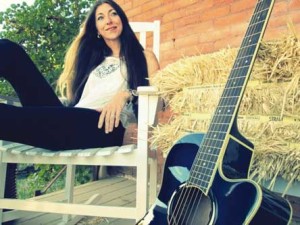 The Heather Lingle Band is set for a two-night performance run at the Eagles Bar in Downtown Bozeman on Friday, March 4th and Saturday the 5th beginning at 9pm both nights.
Heather Lingle is a Montana-based, Texas-born singer/songwriter who uses her voice to till deep into the stony soil of the human heart with songs that examine conflict, triumph, and ever maddening love. Lingle grew up in a musical family in Texas and is cousin to the late Cowboy Slim Rinehart, one of the first "Singing Cowboys" of the 1930s and '40s. Rinehart had his own radio show that was broadcast from the Southwest and whose signal reached as far north as Michigan. He was inducted into the Texas Country Music Hall of Fame in 1996 "in recognition of his being a pioneer of the Texas music scene." In addition, Lingle's dad, Floyd Luker, plays the upright bass and sings harmony in Heather's band. Lingle's mother, Peggy Lingle Luker, helped pen "Last Call on Love" from her first CD, Coyote Beauty.
And, her grandmother, Dorothy Rinehart Lester, has been coaching her in voice since she was a small child, and even today advises Lingle on songwriting. Although Lingle has been performing since she was a young child, she has only been playing guitar and writing her own music since 2009, both of which came naturally. Lingle's voice and writing will take you on a melodic journey through the sun-baked backroads of American roots music. Lingle's critically acclaimed first album, Coyote Beauty, appeared on charts in the US and Japan, peaking at #19 on New Music Weekly's Indie Chart in the US and at #132 on Japan's Real Country Radio Top 200 in 2012. She is delighted about the recent release of Welcome to Blue Town, her second album. Lingle's voice has also been heard on radio jingles and TV commercial voiceovers in Montana and nationally.
Most recently, she was cast as herself in an upcoming independent film that will feature two of her original songs. For more information, to learn more about Lingle, or to listen to some of her music, visit heatherlingle.com/. •