James and Sarah, owners and founders of Alpacas of Montana, are so much more than farm and business owners: they're innovators. They're pioneers in the alpaca fabric industry and are now the largest alpaca apparel company in the country!

From scratch, James created every yarn and fabric that is used for our products. They've done what you have to do to be successful: become experts. They can tell you the origin story of alpacas, their anatomy and their social patterns, James even teaches a Camelid Dynamics class forMontana State University's Vet Program. James and Sarah have crafted such a deep understanding and respect for these animals that translates into their craftsmanship of products and the longevity of the company.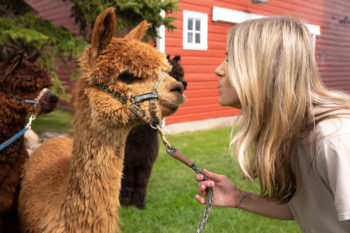 Alpacas of Montana leads the textile industry in their commitment to creating year round comfort through the purposeful design of environmentally conscious and sustainable alpaca products; and they have a patent on the alpaca yarn they produce. They've built this company on transparency, innovation, and long standing relationships. Employees aren't just workers, they're family members (including the now 60 alpacas, 7 llamas, 3 anatolian shepherds, boss lady cat, prairie dogs, chickens, and birds on the farm). We're happy to welcome you to the family, and thank you for joining us in the alpaca revolution!
Our minimum 45-minute hands-on farm tours provide an experience to get up close and personal with our alpacas and llamas. You'll get to feed them their favorite treats, learn how to catch and halter them for a quick walk, help give them a bath on warm days, and depending on the time of year, visit with our alpaca moms and crias (babies)! Babies are born throughout the summer.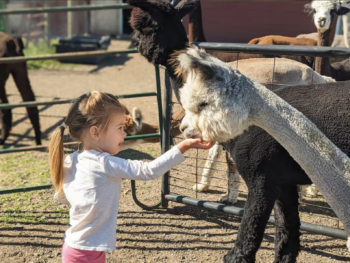 Along with alpacas and llamas, you will meet our three Turkish Anatolian Guard Dogs, Chili, Hazel, and Finn, they are litter-mates and best friends! Our chickens and horses (seasonal) love welcoming our visitors and will always take some extra treats too! We have gophers, deer, bald eagles (binoculars may be needed), and of course our cat, Jill, will occasionally make a special appearance.
Please visit our website to book your Alpaca and Llama experience!