Following the successful run of its first production at the Emerson Center for the Arts & Culture, Verge Theater continues its new season of performance showcasing local theater.
Tickets are now on sale for Kander & Ebb's Cabaret, a historical musical that will bring audiences to 1930s Germany during the rise of the Nazi party. Shows will be held February 10th and 11th, followed by a special Valentine's Day performance on Feb. 14th at 7:30pm, then again Feb. 17th–19th and 24th–26th. Friday and Saturday presentations begin at 7:30pm, and 3pm on Sundays.
Daring, provocative and exuberantly entertaining, Cabaret explores the dark and heady life of Bohemian Berlin as Germany slowly yields to the emerging Third Reich. Directed by Nadia Mell, the local production features the musical direction of Lori Rosolowsky.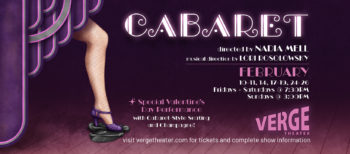 "A stunning musical… this marionette's-eye view of a time and place in our lives that was brassy, wanton, carefree and doomed to crumble is brilliantly conceived." – Walter Kerr, The New York Times
"Stunning… a masterpiece of musical theater penned as a cautionary tale and not at all leavened by the embrace of paradox." – Chris Jones, The Chicago Tribune
"John Kander and Fred Ebb's musical drama Cabaret, with Book by Joe Masteroff, is a show that keeps on giving… a musical that shows interesting characters living through a difficult time, with great songs and mood and atmosphere." – Donald Brown, New Haven Review
Tickets for Cabaret are available for purchase now. General admission is $35, as well as VIP cabaret-style seating with champagne for $69. Visit www.vergetheater.com for reservations and further information about educational opportunities for aspiring thespians. •