Ellen presentation of Dickens' Christmas Carol fit for the festive
The curtains have risen once again at Bozeman's Ellen Theatre, just in time for the most joyous time of year. The downtown venue features several opportunities to get into the holiday spirit with a twinkling stage favorite.
The Ellen invites audiences to return for its much-loved (and long-missed) holiday production of Charles Dickens' A Christmas Carol. Performances will begin December 3rd and run through Dec. 22nd. Tickets are on sale now.
Journey to 19th Century London for this timeless tale and meet Bob Cratchit, Tiny Tim and Ebenezer Scrooge. Watch as Scrooge is magically haunted by Jacob Marley, and the Ghosts of Christmas Past, Present and Future. Will seeing these visions be enough for a misguided miser to change his ways? There's only one way to find out.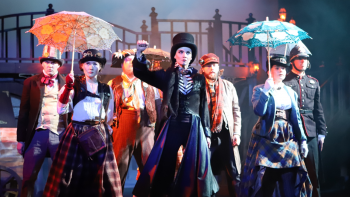 Chase away the holiday humbug with a trip to The Ellen! There's nothing quite like live theatre, and it's sure to be a Christmas to remember with this classic tale, featuring local favorite John Hosking in the role of Ebenezer Scrooge.
Charles Dickens' A Christmas Carol (adaptation by Jerry Patch) is presented by Montana TheatreWorks, producers of Oklahoma!, Annie, Damn Yankees and White Christmas.
A note to parents: This is a faithful adaptation of the book, which includes visits from four ghosts. Although it is all make-believe, some young children may be frightened by the darker, spooky and supernatural aspects of this play.
Friday and Saturday performances of A Christmas Carol begin at 7:30pm, followed by a 3pm Sunday matinee. Three additional shows will be held Monday, Tuesday and Wednesday, Dec. 20th–22nd, at 7:30pm. Tickets to this holiday production range $18 to $34.
Wine, beer and concessions will be sold in the lobby one hour before each event. Ticketing and further information about these and other upcoming happenings is available at www.theellentheatre.org. For additional inquiries, call the box office at (406) 585-5885. •