There are many opportunities to support local business during the busy holiday shopping season. The Downtown Bozeman Association, in conjunction with locally owned small businesses, will present a trio of upcoming events that will allow shoppers to check everything off their lists with time to spare!
First up is the annual return of Ladies' Night on Thursday, November 16th from 5–8pm. One of the most anticipated downtown events of the season, the event is aimed at creating a fun night for folks who want to do a little pre-holiday shopping, enjoy dinner and drinks specials, and spend quality time with friends! Enjoy the goods and services of countless participating downtown retailers and restaurants. So, grab your friends and head downtown the week before Thanksgiving for a fun holiday shopping experience. Open to all.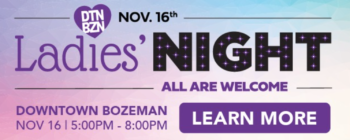 Following Saturday, Nov. 25th, downtown proprietors celebrate Small Business Saturday with sales and other activities. The event is dedicated to supporting small businesses on one of the busiest shopping weekends of the year. Shop small at your favorite stores and help fuel Bozeman's local economy. Numerous small businesses welcome customers to their storefronts with varied promotions and activities.
And looking to a new month, the beloved Christmas Stroll returns to Downtown Bozeman for its 43rd annual event on Saturday, December 2nd from 4:30–7:30pm. Join for festive activities, great food and tons of fun! Bring the whole family and get your picture taken with Santa Claus, watch the lighting ceremony of the downtown decorations, check out the gingerbread house contest display, sing Christmas carols, grab a bite to eat from a local food vendor, visit with representatives from non-profits, or do some gift shopping. Event buttons will be available to purchase from several Bozeman locations following the Thanksgiving holiday. Additional event details to be announced.
Find additional information about Ladies' Night, Small Business Saturday and the annual Christmas Stroll at www.downtownbozeman.org. A complete list of participating businesses will be available prior to each event. •