Though his vision for our little mountain town was eclipsed decades ago, John Bozeman helped found what has become one of the nation's buzziest micropolitans. Notwithstanding the obvious issues we're experiencing given the exponential growth, our little corner of the world remains one of the most incredible places to live, work and recreate.
'Twas another splendid sunny season under the big skies of Southwest Montana with ample reminders of all we are able to collectively experience, whether by summiting the tallest peaks or grooving with the crowd at an outdoor music festival. But autumn has arrived. We're packing up much of our summer gear, enjoying the spoils of fall harvest and slowly moving it indoors ahead of the frigid months we're all too familiar with.
Quickly closing in on year's end, some are beginning to reflect on their annual accomplishments – maybe getting around to finishing up those things summer procrastination got in the way of. We also have loads to celebrate throughout the community following the final tallying of the Best of Bozeman, thee local survey spotlighting the area's preferred food and beverage hotspots, arts and live music, recreational access and other service industries.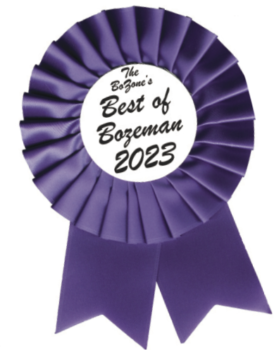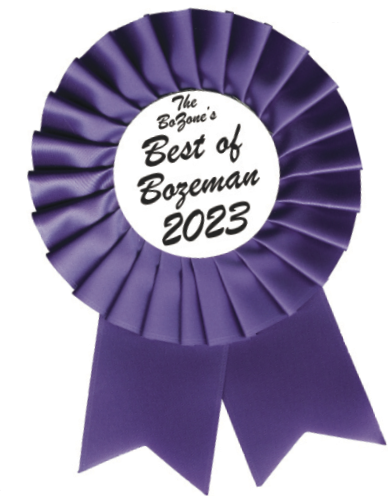 As voted by the locals, read on for our complete breakdown of Bozeman's 2023 picks.
Whether you've got a day of tedious errands to run or have something fun planned, a morning perk is a must. Grab a cup o' joe from Ghost Town Coffee Roasters, voted as connoisseurs of Best Coffee. Their sweet but stout specter espresso made a splash this summer at both their northside Bozeman flagship location and downtown café. Pop into either spot to check out their fall menus featuring sweet bites and caffeinated treats.
Find a table at Wild Joe*s Coffee Spot downtown if you have some time to spare. Voted Best Coffeehouse, it's been an institution for years thanks to their creative concoctions, house-made eats and welcome space for local artists to showcase their work.
Once again taking the prize this year, Nexus Drive-Up Coffee is your choice for Best Coffee HUT. Get your fix on the run with a healthy pour and a delicious breakfast burrito at this Midtown haven for all the coffee-lovers out there.
If espresso isn't really your jam, hot drinks are always available at Steep Mountain. The repeat winners for Best Tea offer an extensive variety of loose leaf used to steep and brew their inspired creations. Their downtown space is a great option for those looking to get some quiet work done or have meaningful conversations with friends.
Bozemanites also have the option to enjoy a healthy meal supplement at the Farmer's Daughters Café & Eatery, winner of Best Juice Bar. Menu items like the Glo Signature and Warrior smoothies fill you up for the day's adventure, with easy grab-n-go meals to go with.
Everyone likes to start the morning with a little something savory or sweet. Look no further than Wild Crumb for your next craving, whether an order for one or a box to share with friends or colleagues. Voted Best Bakery once again, the artisan bread and pastry makers are ushering in a new season with pumpkin cheesecakes and other fall-inspired offerings.
Those looking to score some serious points with the sweet teeth in their life may opt to pick up a box of glazed from Granny's Gourmet Donuts. Repeat category victors for Best Donuts, Pastries & Sweets also offer creatively decorated frosted rings and cake rounds at their frequented shop near campus.
It's time for what some say is the most important meal of the day. Best Breakfast goes to the Western Café, the downtown greasy spoon adored by locals for its hit-the-spot plates and hometown feel. Their cinnamon roll french toast is a highlight but diners also have their choice of the tastiest traditional offerings. The "Last Best Café" also took the prizes for Best Hangover Food Cure and Authentic Montana Ambiance.
Our busy Montana days seem to progress quickly with a midday recharge often essential to help get us through. Place an order with Fink's Delicatessen for that nutritional push. Winner of Best Lunch and Sandwich, the family owned deli offers sammies hot and cold as well as hearty soups and fresh greens. Nobody does it like Fink's!
Brick and mortar restaurants no longer have a monopoly on the market share with mobile dining options on the rise in the Gallatin Valley. Finding its niche among local foodies, El Rodeo continues to impress as the Best Food Truck from its N 7th location with its eclectic menu of Mexican eats. Their stellar word of mouth also allowed the proprietors to open a second location in Gallatin Crossing.
Backcountry Burger Bar keeps it simple with locally sourced beef and bison patties. They're your pick for Best Burger once again this year. With a broad variety of Treasure State brews on tap, the downtown burger joint also serves up some tantalizing appetizers and service with a winning smile.
With locations in Bozeman and Belgrade, treat yourself to the vibrant décor and flavors of Fiesta Mexicana. The local restaurant was voted Best Mexican for their menu of traditional items like tacos, enchiladas and chimichangas – not to mention their dangerous fishbowl margaritas. ¡Delicioso!
There's a new winner for Best Sushi in this year's survey with Seven Sushi claiming the top prize. Located in the Cannery District, guests can expect a flavorful selection of sashimi and nigiri as well as specialty rolls and other delicacies. Their spin on Japanese fusion continues to attract casual diners and those with more critical tastebuds.
Another local venue for rolls and bowls, Hooked Sushi, enjoyed a trio of wins for Best Asian Food, Place to Eat Seafood and Place for a First Date. Their intimate downtown space has the feel of a classic sushi bar where diners can watch their orders being rolled and immerse in quiet conversation with a bottle of sake.
Though you can find her kimchi on local store shelves, it's always a treat to pop into I-Ho's Korean Grill to see the sociable proprietress at work. She makes the Best Korean Food in town using traditional family recipes and flavorful ingredients. I-Ho's recently introduced a weekday happy hour, giving those who haven't been more reason to check them out.
An authentic fine dining experience awaits at Pakeezah, the repeat winner for Best Indian Food. Their mouthwatering dishes are enhanced with exotic spices not found on many local menus with custom Indian beverages as well as a full beer and wine menu at the ready. You can also find their Curry Express food truck at rotating venues around town!
Venture out to Belgrade for some southern soul food, Big Sky style at Bar 3 BBQ. Order up all your favorites including brisket and ribs and wash it down with a local brew on tap. Your choice for Best BBQ is always open for walk-ins but also offers catering services and space for private events.
A little farther out of town, the family owned Land of Magic serves up a classic steak dinner complete with taters and all the usual fixings. A new winner for Best Steak, the Logan restaurant offers a full bar and seafood options to boot. Their dining area accommodates parties large and small, giving folks a genuine Treasure State experience.
Traveling to Europe is a costly undertaking, but locals need only the petrol in their tanks to enjoy the Best Italian food in Bozeman. Blacksmith Italian has earned its loyal following for their handcrafted pasta, delectable entrées and plate-enhancing wine selection. Reservations encouraged for this taste of Italy. Blacksmith once again took the prizes for Best Chef and Fine Dining.
With so many new places popping up around town, MacKenzie River Pizza continues to thrive as one of old Bozeman's tried and true originals. Their signature Best Pizza offers an option for every palate, with fresh salads and delectable appetizers like their trademark lodgepoles. Plenty of local beers on tap, too! Stop in or order to-go from their downtown locations in Bozeman and Belgrade.
One of the liveliest spots in town, Sidewinders American Grill, has quickly become a go-to for meals out. Your fresh pick for Best Restaurant has an incredible menu of classic fare, from burgers and sandwiches to pizza and pasta. You can always catch the big game on one of their many big screens, whether at the bar with a cocktail or with a group of friends. Founded by marine veterans, Sidewinders also took Best Appetizer, Casual Dining and Kid-Friendly Restaurant.
Perhaps it's the central bowling alley or the dueling bars, but surely the menu at Ponderosa Social Club helped the midtown haven secure the coveted prize for Best New Restaurant. Their shrimp street tacos are the best around and their full menu features choices including pork chops, protein-rich pastas, steaks and salads. Order a craft cocktail or a frosty brew before heading over to the gaming parlor after dinner. The venue also hosts Sunday brunch and regular community events.
Best Take-Out goes to Thai Basil, a local restaurant whose food transports the senses to Thailand with every order. Enjoy a noodle, fried rice or veggie dish along with a zesty appetizer. Kids Menu available with online ordering for pick-up or delivery.
Save room for something sweet from Genuine Ice Cream. The Peach Street shop scoops up a variety of classic and rotating flavors and also make shakes, malts and fizzy floats. The Best Ice Cream Shop is available to cater events and also sells their flavorful, house-made creations wholesale. We all scream for ice cream!
A few additional mentions: Roost Fried Chicken was voted the Best Inexpensive Restaurant for their Southern-inspired bites, Montana Ale Works took the prize for Best Restaurant Dessert to be paired with a fresh craft cocktail and Tarantino's Pizzeria is the place to get the Best Late Night Grub in the form of a delectable cheesy slice.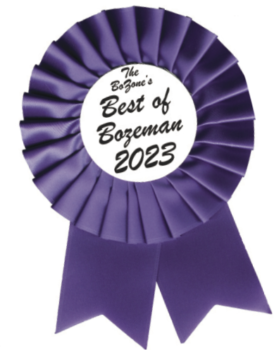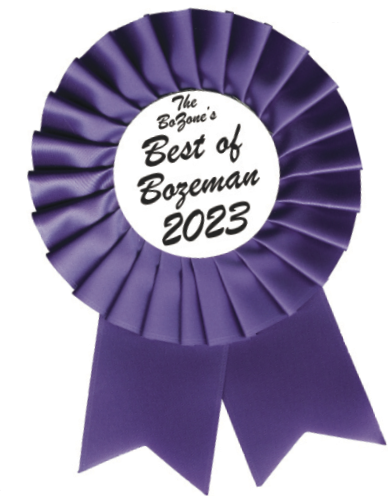 A favorite pastime among Montanans, the pure enjoyment of a locally brewed pint in the summer sun is hard to compete with. Luckily we've got a plethora of options to satisfy our cravings.
It would seem MAP Brewing Co certainly has made an impact on area voters as it once again is celebrating its victory as the Best Brewery in the greater Bozeman area. Their tasting room is located in the northeast corner of town with an unmatched view of the Bridger range, with a huge patio – winner of Best Outdoor Patio – bordering Glen Lake. MAP features a grill of tasty snacks and mains to accompany their popular brews like the Strange Cattle IPA and Party Mexican lager. Their Midas Crush IPA also took the prize for Best Local Beer (Flavor) and MAP is your Best Local Beer Crafter.
Another popular spot for Montana drafts, Mountains Walking Brewery, continues to impress with its own menu of suds and inventive hops-infused slushies. Your pick for Best Tasting Room is nestled in the Bozeman Brewery Historic District and is a great place for lunch or after-work pours. Their food menu featuring apps like the tachos and cauliflower wings helped the local brewer secure Best Bar Food that also includes delicious sandwiches and wood-fired pizza.
Just up the road, SHINE Beer Sanctuary has an almost unbelievable roster of suds to choose from with flavors from around the state and beyond. It shouldn't come as much of a surprise it won Best Beer Selection to go along with eats from LaPa Grill. Not a bad way to pass the time!
Perhaps a less burgeoning industry but enjoyed all the same, local spirit makers know how to make a splash with their adult confections. Willie's Distillery claimed the top honor for Best Distillery this year. The veteran-owned cocktailer is located in Ennis, but worth the trip. Head out to give their Snowcrest Huckleberry Vodka or Montana Moonshine a taste.
Whether hitting the downtown strip or pulling up a stump at another local tavern, we've got plenty of opportunities to paint the town red. Devil's Toboggan knows how to mix a unique cocktail. Their libations and contemporary setting helped them take the trophy for Best Bar in '23. Located in the Cannery District, it's a top pick for aperitifs.
Another craft mixture hot spot, Plonk, has long served as a destination for the cocktail savvy. The downtown venue builds the Best Cocktails in town and serve a full dinner menu in complement. Step into this welcoming space for the likewise voted Best Place for Girls' Night Out and Happy Hour.
The fellas have long chosen Copper Whiskey Bar as the Best Place for Guys' Night Out. The speakeasy-inspired tavern is a great place to hide away, sip on your favorite brown and let off some steam.
With the MSU campus bordering town, there's a large population of twenty-something college students who rightfully enjoy their youth downtown. The storied Rockin' R Bar attracts the masses on weekends and is also a great place to enjoy a happy hour meal from Hail Mary's. The R takes Best Nightlife, Best Place to Dance and Place to Meet Singles.
Sing your heart out at the American Legion every Monday night. Just next door to the Rockin' R, the local post of the veterans organization hosts the Best Karaoke in town for those looking to croon a favorite tune or impress with their vocal abilities.
Some may find a night of merriment in preferable to one out on the scene. Montana Spirits & Wine has everything you need for at-home celebrations and amateur mixology. Their comprehensive inventory of liquors and expert staff are the reason this retailer wins Best Package Liquor Store year after year. But they've got vino, too! Repeat winner for Best Wine Shop, their on-the-nose selection of reds and whites go perfectly with every dish.
This is Bobcat country and not all of us were able to score season tickets. Catch the big game at Spectator's Bar & Grill, where you can always catch the action when the boys are playing out of town. Regular winner for Best Sports Pub, Specs offers ample seating and plenty of big screens to revel in every play-by-play. Stout drinks and fried delights. Go 'Cats!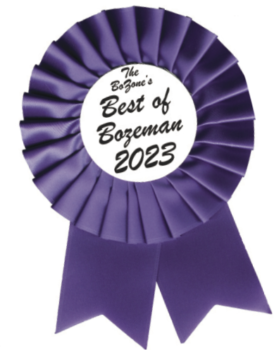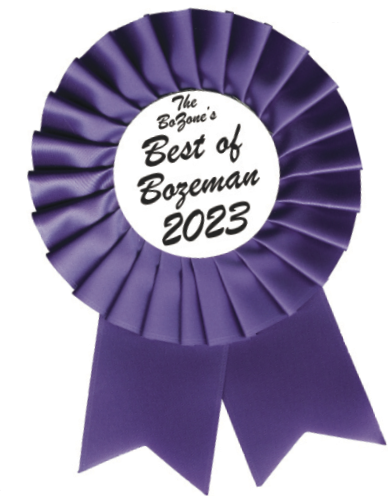 Beyond wining and dining, there's a lot more to do in the greater Bozeman area for the entertainment hungry.
Curious minds flock to Museum of the Rockies to check out the renowned dino display or a show in Taylor Planetarium. The Best Place for Family Fun and Kids' Activities is an amusing, educational adventure to another time and place. MOR has opened two new exhibits – "Unbridled Spirit: The Photography of Barbara Van Cleve" and "Zoo in You: The Human Microbiome" – and will once again host Haunted Mountain Theater late this month.
Stage entertainment comes in many forms around the area, with theater and dance troupes adding to the sweeping music scene. The Ellen Theatre hosts a little bit of everything, frequented to a large degree for their Montana TheatreWorks productions. The Best Live Theater Venue will present a trio of productions this season: Moss Hart and George S Kaufman's You Can't Take It with You, Charles Dickens' A Christmas Carol and The Glass Menagerie by Tennessee Williams.
On a statewide tour every summer, Montana Shakespeare in the Parks is an incredible way to enjoy the Bard's timeless plays under the big skies of the Treasure State. This year saw the Best Live Theater Group fronting performances of "problem play" Measure for Measure and Alexandre Dumas' The Three Musketeers with an opening residency at the MSU Grove. Until next season!
Voters selected a new winner for Best Local Event this year with the Bozeman Farmers Market rising to the top spot. Held during the summer months, the weekly gathering features local produce, art vendors, live music and family activities. The lively market made the move to Lindley Park a few seasons back and is held every Tuesday night.
Another Lindley staple, Sweet Pea, takes over the park on the first weekend of August each summer. The event continues to thrive as it closes in on a half century of cultural celebration, highlighted by bowl concerts, vendor market, stage performance, flower show, eats and treats. The Best Festival is a hallmark for longtime residents and returning visitors.
The window for festivals only lasts as long as the Montana seasons allow, but The ELM hosts a number of touring acts throughout the year in their contemporary performance space. They win two prizes this year: Best Event and Music Venue. Check out upcoming shows by Satsang, The Lil' Smokies and Monophonics, among others.
Celebrating the 50th anniversary of Dark Side of the Moon at The ELM early this year, seasoned tribute group Pinky & the Floyd know how to put on a show for loyal fans and casual listeners. Their performances feature full albums from the English rock ensemble as well as sets with a thematic through line. They are once again winners of Best Local Band.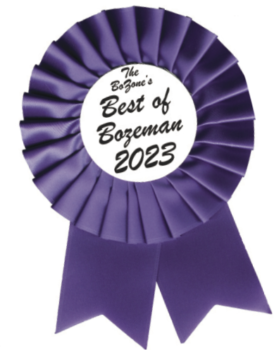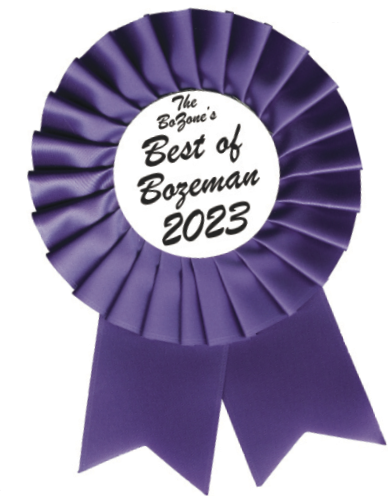 Artistic expression of area musicians and stage performers is easily accessible with a visit to venues around the Gallatin Valley, but residents can also showcase their own creative flair with a piece of new art or framed personal works and photographs.
Those seeking professional artworks can find a piece to enhance their living spaces at Altitude Gallery. Their eclectic inventory of paintings and prints, jewelry and figurines offers locals a splendid catalog to choose from. Stop in to the Best Art Gallery to see their latest collections.
Some may choose to adorn their vacant wall space with a family photo or painting. The set and mount professionals at Old Main Gallery & Framing are always available to customize your needs. The Best Frame Shop helps polish that meaningful portrait and features monthly artist showcases.
Add a vintage twist to your home décor with a timeless treasure from the Antique Barn, the repeat winner for Best Antique Store. Their stock of furniture, housewares, accessories and trinkets regularly rotates with fresh finds.
Bring a dash of color to any room this coming winter with an arrangement from Best Florist Labellum. The contemporary boutique can put something together for any occasion, whether a birthday or anniversary and everything in between.
Another gardening season has come and gone, but a green thumb knows it's never too early to plan for next year. Cashman Nursery & Landscaping has long been the destination for seed, transplants, supplies and bulk materials. Founded in 1898, the Best Garden Shop or Nursery remains family owned and ready to assist with projects large and small.
It seems like there's always a need for a new set of furniture, or the desire to clear out old ones. Used Furniture Store resells the Gallatin Valley's much-loved pieces. The Best Furniture Store is the premier resource for quality used items for the home and office. They'll even come pick up for sellers by request.
Sectionals are great for fall leisure like watching Sunday football or curling up with the latest release from your favorite author. Downtown Bozeman's Country Bookshelf has a broad selection of genres, new and classic titles for bookworms. The Best Bookstore also hosts regular author events open to the reading public.
Southwest Montana has an incredible population of musicians always fine-tuning their talents ahead of area performances to entertain the locals. Singer/songwriters find their tuneful tools at Music Villa, a downtown shop that attracts players of every variety. The Best Musical Instrument Store offers music lessons and space to try out the new gear.
Pick up the latest vinyl or peruse a colorful selection of souvenirs at Cactus Records & Gifts, the seemingly permanent winner of Best Record Store. Now serving Bozeman from its larger West Main location, their elaborate selection of new and used records to discs gives every music-lover reason to pop in for a "weirdo" experience.
The season of beautifully wrapped gifts is already upon us. Downtown lifestyle boutique Heyday has something for everyone on your list, with apparel, jewelry, enamelware as well as other odds and ends. The Best Place for Unique Gifts and Gifts for Her is a welcoming retail shopping experience and also offers gift-wrapping services.
Murdoch's Ranch & Home Supply took the prize for Best Place for Gifts for Him in this year's survey. With locations in Bozeman and Four Corners, the Western living retailer has an unmatched stock of jeans, boots and footwear for every guy in your life.
We've got a tie this year for Best Clothing Store – EVRGREEN and Revolvr Menswear. The companion stores bring the Bozeman fashionable through their doors for an inviting shopping experience featuring the latest styles for men and women, as well as fragrances and accessories. Stop in downtown to shop the latest lines at these modern boutiques.
If you're more of a bargain shopper, head down to Sack's of Bozeman for gently used clothes and other vintage finds. The regular winner of Best Thrift Store is constantly replenishing their inventory of apparel and home goods with many items no longer available on the mass market.
Some additional mentions: Schnee's Boots & Shoes once again wins for Best Shoe Store thanks to their spread of fine leather soles and adventure gear, Bozeman Running Co is the runaway winner for Best Running Shoe Store for their athlete-friendly trainers, Miller's Jewelry put a chain around Best Place to Buy Jewelry with a selection of diamonds, estate jewelry and Montana sapphires, Best Craft/Hobby Store goes to newbie Hobby Lobby for their various project supplies, and Refinery on Seventh took Best Used Furniture Store.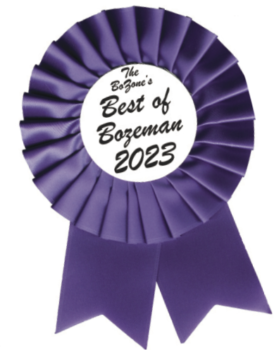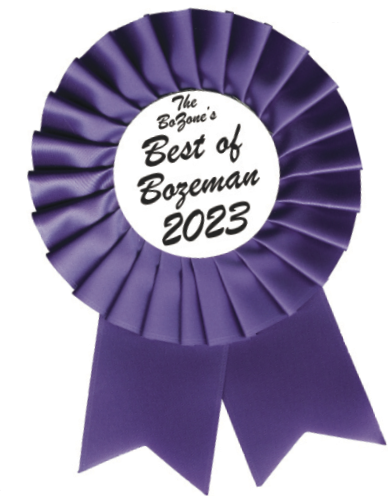 Sometimes you just gotta get outta dodge. With so many adventures within driving distance, there are ample opportunities to take part in Montana's unbeatable natural features.
Chico Hot Springs offers a welcome respite for busy professionals to soak the joints and enjoy a little downtime in the Saloon. The Best Overnight or Weekend Getaway features a dining room and accommodations for those lucky enough to secure a reservation.
Another soakers' paradise, Norris Hot Springs, narrowly claimed the top prize for Best Hot "Wada" this year. Take a dip in their "Water of the Gods" while enjoying a full grill menu, snacks and greens cultivated from the on-site gardens.
There are more local ways to rejuvenate and let out those pesky toxins. Find serenity with a trip to Canyon River, the reinstated winner of Best Day Spa. Their wellness-focused approach is implemented with skin and body treatments like facials, peels and wraps. They're also the Best Place for a Massage with hot stone and CBD options, among others.
There's no better treatment for body and mind than physical exercise. Get ahead of New Year's resolutions with a membership at the Ridge Athletic Club, popular with guests at both the original and downtown locations. Their facilities feature the latest equipment for members to get their sweat on, with personal training services available at this Best Gym / Fitness Center in Bozeman.
Give your MMA dreams room to breathe with a class at Montana Mixed Martial Arts, a local gym that returns to summit with Best Martial Arts Gym after a year off. The contact sport and self-defense system known as Jiu-Jitsu is open to those of all experience levels, an empowering activity for anyone looking to beef up their defensive strategies.
The human physique is a canvass for many who have discovered the wonders of body art. The artists at East Main Ink are ready to help their customers with a meaningful design, whether a simple pattern or a larger project with room for development. Schedule an appointment with the Best Tattoo Studio when you're ready to get inked with purpose.
The changing of the seasons calls for a new 'do from Evolve Hair Design. Their talented stylists helped the Ferguson Farm studio bring home Best Hair Salon for another year. Check out their menu of services and book and appointment for cut, color and waxing for that fresh fall look.
Gentlemen of the community have chosen Legends Barber Club as their choice for haircuts, beard trims and hot shaves. A new winner for Best Barber Shop, their studio is located on N 7th with online booking services through Schedulicity.
A new winner for Best Dispensary this year, Collective Elevation can be found at two Bozeman locations, with others around the state. The living soil cannabis grow features a wide array of products including flowers, pre-rolls, edibles, tinctures and topicals.
While we're on the topic of personal wellness, some other winners in this year's survey include Best Yoga Studio Bozeman Power Yoga for their traditional and fusion courses, Best Dance Studio Tanya's Dance Co with classes offered at locations in Bozeman and Belgrade, and Best Optical Shop Advanced Eyecare Associates for their selection of frames and lenses.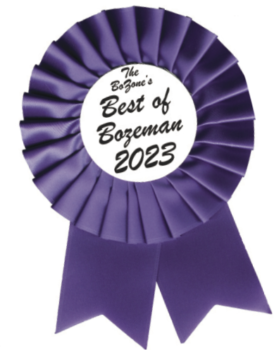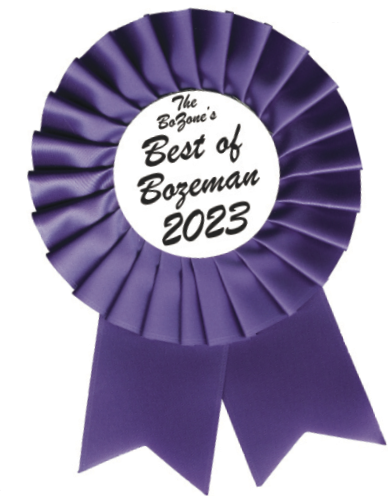 Bozeman commerce is quickly broadening with new businesses opening regularly, adding to an already bustling local economy. Our next round of winners showcases our hard-working proprietors and their irreplaceable employees who serve us each and every day.
Shoppers flock to employee-owned Town & Country Foods when the fridge and pantry need stocked. The Best Grocery Store offers fresh produce, cuts from the butcher block and all the essentials. They also have an express deli with daily lunch specials. With locations in Bozeman, Belgrade and Livingston, T&C also reclaimed Best Store to Buy Beer.
Find all the organics your heart desires at the Community Food Co-op. With a delicious soup & salad bar at each of their flagship and downtown locations, the winner of Best Eco-Friendly Products is the go-to store for spices and supplements, bulk products and items for those with dietary restrictions.
Whether your dinner menu calls for chicken, beef, poultry or fish, two Bozeman businesses have exactly what you need for a protein-rich spread for family meals. Primal Meat & Fish Market is your pick for Best Place to Shop for Seafood for staples like their sushi-grade ahi and Ora King salmon. Best Place to Shop for Meat once again goes to Daniels Gourmet Meats & Sausages for their juicy traditional cuts and supplemental retail items.
Best Convenience Store winner Town Pump can be found on corners around the Valley for fuel and quick buys, while Owenhouse Ace Hardware took Best Hardware Store for their home improvement necessities, appliance selection and knowledgeable staff. Find Owenhouse locations in Downtown Bozeman and on Huffine.
Outdoor motorist adventurers continue to choose Summit Motorsports as their preferred spot for their seasonal recreation needs. The Best ATV / Motor Sports Store enters a new season with an inventory befitting of winter rec and also offers deals on bikes, side-by-sides, watercraft and trailers.
If it's time for a new ride, look no further than your local Chevrolet and Toyota dealer Ressler Motors for makes and models of every variety. The established vehicle seller – your Best Car Dealer – has an expansive stock of new and used automobiles at a range of price points. Their Collision Center also helped Ressler win Best Autobody and Automotive Repair.
Keep your new purchase or much-loved vehicle running smoothly with the Best Oil Change in Bozeman from Speedy Lube. The locally owned and operated quick stop has been serving our community since the early 90s, offering full-service changes and other solutions for your roadway travels.
Secure an auto loan from First Security Bank, whose lending services also include home and personal. Once again selected as your Best Bank, the financial institution can be easily accessed from multiple Bozeman locations and another in Four Corners. Open an account today or speak with a representative about all your financial needs.
A day of errands or the traffic-jammed commute calls for some tuneful listening from Best Radio Station KSKY 106.9. The country music broadcaster delivers all the modern and classic hits to your speakers. Also winning Best Radio DJs, Dave & Ally once again prevail for their lively morning commentary.
Stay up to date on all the local and national headlines on channel 7, home to KBZK. The trusted victors of Best TV Morning and Evening News Show keep us informed with area happenings, regional sports and a current look at upcoming weather patterns. Tune in for reports by a team that includes Edgar Cedillo, Matt Elwell and Mike Heard.
Bozeman has earned a casual reputation for its abundant Subaru and dog owners, with our furry companions deserving of a lot of love and attention. Stock up on all the goods for man's best friend at Dee-O-Gee, the Best Place for Pet Supplies like freeze-dried and frozen raw food, bowls and feeders, treats and toys. They've also got plenty on hand for our local cat-lovers. Dee-O-Gee also wins Best Pet Groomer this year.
Enjoy happy, healthy pets with an appointment at Hardaway Veterinary Hospital. Their services for all animal breeds personal and professional are centered around your pet's emotional and physical well-being. The pick for Best Veterinary features an online pharmacy and is ready to assist all local pet owners.
Find your newest family member with Heart of the Valley, an animal shelter that facilitates local adoptions for families and individuals alike. The Best Nonprofit operates in large part thanks to community donations and does incredible work matching residents with a new cat or dog. Find HOV on social media for regular success stories that always uplift.
Exercise your little rascals at Snowfill Recreation Area, the Best Place to Take Your Dog, or venture to Story Mill Community Park and let them off-leash in the single acre dog run. It's newly voted the Best City Park.
Outdoor recreation is possibly the greatest feature of Montana life, with mountains to climb and trails aplenty. REI remains the Best Outdoor Gear and Sports Equipment Store for adventurers in need of apparel, instruments and gadgets. Members need only drop in to prepare for an afternoon on Best Hiking Trail Lava Lake, located just a few miles into Gallatin Canyon. Hiking itself was too named your Best Outdoor Activity.
A sunny summer day fails to go by without floaters and fishermen wading in the waters of the Madison River. The slow-moving tributary named Best River can be accessed from numerous entry points and attracts aquatic recreationists of all ages.
Another outdoor activity our part of the Northern Rockies is known for allows skiers and snowboarders access to some of the most bountiful slopes in the nation. Best Ski Area goes to Bridger Bowl thanks to their runs of all experience levels and the Community Event Series. Opening day is set for Dec. 8th, 2023!
Hit the streets or trails with a new set of spokes from Owenhouse Cycling whose downtown storefront has collected Best Bike Shop by area pedalers, grab a new pole and tackle from Best Fly Fishing Shop The River's Edge, or hit the links at Bridger Creek for the Best Golf Course experience the Valley has to offer.
Only the most dedicated running enthusiasts lace up for a wintry trek on Best Jogging Trail Peets Hill, but the spring thaw brings the annual return of Run to the Pub for the pleasure of those looking to best their times alongside a few thousand of their fellow community members. The Best Timed Food Race ends with celebratory suds outside event sponsor 317.
Though summer is its busiest spell, Yellowstone National Park offers a number of off-season activities for the locals and winter tourists. The Best Place to Experience Nature is known around the world for its free-roaming wildlife, thermal features and splendid snowmobiling.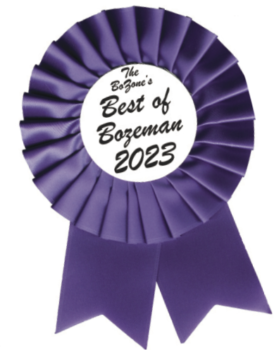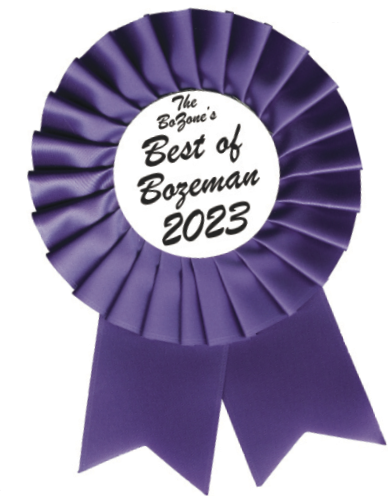 As they say, all good things must come to an end. The annual rundown of Bozeman's Best is always a fun review of our favorite restaurants, taverns, local businesses and activities – but we have to save room for a little grumbling.
One of the things plaguing our town is the persistent traffic congesting our overcrowded roadways. Best Place for a New Traffic Light or Roundabout goes to 11th & Durston this year. The intersection just north of Bozeman High sees a continuous backlog of vehicles at any given time, but it remains to be seen whether city planning will allow an installation to ease the flow. Time will tell.
And as it was voted last year, Best Use of Taxpayers' Money and What Could Make Bozeman Better stays with Rent Control and Affordable Housing, respectively. Our housing crisis has hit yet another all-time high with little availability for the working class. Though there seems to be some movement on regulating short-term rentals, we all hope our leaders are shifting focus to finding a fix for renters and low to middle-income community members being unable to sustain livability.
Now that we've got those out of the way, there's one last item to highlight before we wrap. Referencing the above breakdown, there's quite clearly SO much for Southwest Montana residents to enjoy in every corner of our sprawling acreage. With a final vote tally in the thousands, the Best THING About Bozeman is a biggie – Access to the Great Outdoors. Scaling mountaintops, drifting down river, rugged cycling, slopestyle adventures, afternoon drives and hunting season are all reasons for this repeat win. Though our community has a lot of work to do as its growth persists, we can all come together in recognition of our natural assets few other places are able to share. •