Following resolution of the parking predicament affecting Pine Creek Lodge and its loyal patrons, the Paradise Valley venue remains steadfast in their commitment to those on the hunt for a delicious meal, cold beer and side of live music. Pine Creek's popular Brunch Live Music Series is held on select Saturdays and Sundays this spring. The tunes begin at 11am and run until 1pm.
Enjoy a performance by Shelly Besler and Tony Polecastro on March 11th. Shelly is a Livingston-based singer/songwriter who counts Patty Griffith, Wilco and Katie Herzig among her influences. Tony is a musical wonder on the dobro and joins Shelly on vocals.
March 12th spotlights Dick McCumber. He's a singer/songwriter living in Paradise Valley.
Pine Creek Lodge will host Rocky Mountain ensemble Wood Belly on Thursday, March 16th. Tickets are $25 in advance or $30 at the door. This indoor show begins at 7pm.
Something downright mystical is happening on Colorado's Front Range. The very roots of traditional acoustic music seem to sprout from the dirt, shaking their dust into the winds of change, to be breathed in and become the soul of musicians who craft their songs here. Such is the music of Wood Belly, whose songs have their own lyrical persona and masterful arrangement, rooted in bluegrass tradition and planted solidly in contemporary innovation.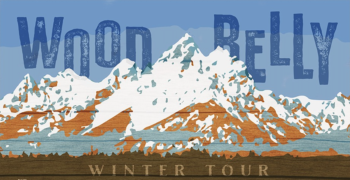 Experience the many talents of Paul Lee Kupfer on March 18th. He has a distinctive approach and his arrangements are inventive and fun. Restless touring and writing has allowed him to share the bill with some of his heroes and bring his music to many different kinds of people across the United States.
Singer/songwriter Hannah Jo Lally shows off her talents on March 19th. From the back roads of Eastern Washington, enjoy an evening of country cuts and distinctive originals. She draws influence from the likes of Suzy Bogguss and Charley Pride, Waylon Jennings and Mary Chapin Carpenter, among others.
Ryan Acker is back at it on March 25th. The guitar-playing, banjo-plucking songwriter from The Last Revel plays a healthy blend of acoustic versions of the full band's songs, one or two fun covers, and some originals of his own.
Cole Decker returns on March 26th. The Mississippi-born singer/songwriter pulls from his musical roots of old school country. He's influenced by the likes of Waylon Jennings and newer artists including Chris Stapleton, Brent Cobb and Jason Isbell.
Brunch shows are FREE of admission, but space is limited. Wood Belly tickets are available for purchase. Please visit www.pinecreeklodgemontana.com to learn more about these and other upcoming events. Pine Creek hosts Trivia on Wednesday nights from 7–9pm and Open Mic on Fridays at 6pm, until the music stops. •