Bozeman Symphony is thrilled to kick off the 2023-24 concert season with an opening weekend performance of Dvorak's New World Symphony. The program features Israeli-American cellist Inbal Segev performing DANCE for Cello and Orchestra, a piece that has been streamed over 10 million times. Set for September 23rd and 24th at Downtown Bozeman's Willson Auditorium, audiences will be swept away by this rousing start to the Symphony's 56th season.
"Our audience is going to experience two of classical music's leading living composers of our age," says Music Director Norman Huynh. "Kevin Puts is an American composer who uses traditional aspects with a modern twist. Virelai is the perfect piece of music to introduce our patrons to his sound world. Anna Clyne's sense of melody ties to a long tradition of British orchestral music. However, she can quickly shift the mood of a piece to feel more angular or make you feel like you're suspended in time, like the first movement of her concerto, DANCE."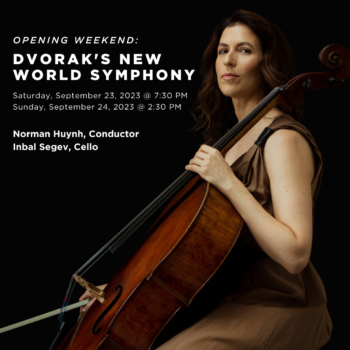 "Tying this program together is Dvorak's Symphony No. 9 "New World." He was influenced by his trip to North America and through his signature folk style, was able to open possibilities for American composers to find their own unique voice. The English Horn solo is absolutely divine and worth hearing live, especially by our wonderful English Horn player, Mateo Mendez."
Celebrated for her fresh insights into music's great masterworks, Segev is equally committed to reinvigorating the cello repertoire, and has commissioned and premiered major new works from an international who's who of today's foremost contemporary composers. A prodigy who first played for the Israeli president at just eight years old, Segev came to international attention ten years later when she made concerto debuts with both the Berlin and Israel Philharmonic under the baton of Zubin Mehta. Since then, she has appeared as a soloist with such leading orchestras as the London Philharmonic, Orchestre National de Lyon, Dortmund Philharmonic, Pittsburgh Symphony, Baltimore Symphony and St. Louis Symphony. Today she lives in New York City with her husband, their three teenage children and her cellos.
The Willson performances will be held on Saturday, Sept. 23rd at 7:30pm and Sunday, Sept. 24th at 2:30pm, in Downtown Bozeman. Individual tickets are available for purchase at www.bozemansymphony.org or by calling (406) 585-9774. Tickets at the door are based on availability. Adult tickets start as low as $29, with student-discounted tickets available. •