Armory Music Hall presents a rockin' evening with the Boxmasters
Americana rock n' roll band Billy Bob Thornton & the Boxmasters will visit Bozeman's Armory Music Hall for a performance on Sunday, May 15th. The show starts at 8pm. Doors at 7pm. General admission tickets are $60 with limited VIP reserved seating available.

In addition to being one of our nation's most acclaimed actors, Bud (Billy Bob) Thornton is also recognized for his musical talents, recording solo albums and appearing on numerous recordings by other artists.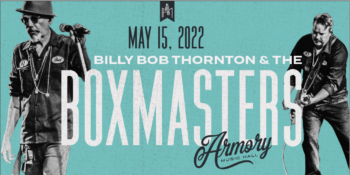 In 2007, he and Grammy-winning recording engineer J.D. Andrew formed The Boxmasters, to satisfy their craving for '60s beats. The group has recorded an impressive and diverse catalogue of music that touches on their love of a wide array of influences. As a touring band, The Boxmasters have cultivated a rabid cult fanbase across the United States and Canada, performing in a growing resume of must-play venues.

During the shutdown of 2020, the recording studios in Los Angeles were closed for several months. For avid creators Bud and J.D., this was a time to start planning and writing for the day that the studios would open again and what sort of new songs would emerge. Over the course of the next year, The Boxmasters would record three new albums: a very personal record titled Nothing Personal, yet to be released, Christmas in California, released in November, and last month's Help… I'm Alive.

Armory Music Hall tickets are available for standing-room general admission and limited VIP seating. A complete list of upcoming performances and ticketing access is available at www.armorymusichall.com. •