The Bozeman area is known for its diverse marketplace thanks to the enthusiastic and innovative small business owners whose products and services keep Montana life at the forefront of their enterprise. James and Sara Budd, the duo behind Alpacas of Montana, have long worked to build their relationship with the community in exposing residents and visitors to the gentle creatures they've raised as part of their farm family.
Leaders in the alpaca textile industry, their sustainable menu of products has benefited shoppers well beyond the Gallatin Valley by way of convenient online ordering. Beginning this month, the public is invited to the grand opening of the Alpacas of Montana Retail Boutique situated within the farm grounds where shoppers will be able to peruse their inventory on site.
The weekend-long celebration will be held Saturday and Sunday, June 3rd–4th, from 11am–3pm each day. The grand opening will feature a raffle for attendees, special gifts with every purchase, live music and entertainment, complimentary refreshments, treats by Mountain Berry Bowls, as well as photo opportunities with the alpacas, and more.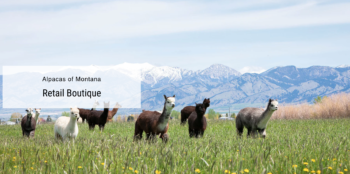 The summer calendar has plenty more in store, including the Mini-Market Series on the final Sunday of each month from 11am–3pm, in addition to Alpaca Yoga on the second Saturday from 9:30–10:30am with mimosas and private shopping to follow.
Alpacas of Montana continues to offer 45-minute, hands-on farm tours by appointment that allow visitors to get up close and personal with the alpacas and llamas. Feed them their favorite treats, learn how to catch and halter them for walks, help give them a bath on warm days, and depending on the time of year, visit with alpaca moms and crias (babies)! Babies are born throughout the summer.
Visit www.alpacasofmontana.com to learn more about the farm, check out the seasonal items available for purchase, and to book your Alpaca and Llama experience. Located at 8255 S Cottonwood, the Retail Boutique grand opening is set for June 3rd–4th. •