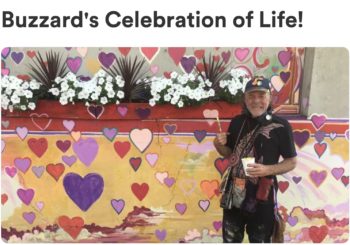 Every once in a while, the universe conspires to create an extraordinary human being. Someone whose very existence is geared towards spreading love, kindness, grace and humility. Someone who was blessed to travel to faraway places, experience adventure, hone their craft in the company of other talented individuals, create family out of friendships, and touch hundreds of hearts along the way. Someone whose very presence spontaneously lifts others up. When we meet someone like this, we instantly feel comfortable. We let our guard down and we let ourselves be welcomed into their world. Such is the story of Buzzard. Unique in name and even more unique in character.
Dennis Claude Dungan also known as Buzzard, passed away peacefully on October 30th, 2022 at the age of 72.  The last few weeks of his life were spent with family and friends and was a time of reflection and acceptance of a life lived to the fullest.  His life was framed by his love of art, music and adventure.
None of us escape life without being challenged in ways we would never imagine. For some of us, those unexpected twists and turns can become unwieldy at times. Although Buzzard's lived experience included bouts of homelessness, which sometimes extended to unfathomable durations, loneliness and numerous health issues, his love of life and the people he met along the way, propelled him forward. With a guitar by his side and art supplies in the basket of his bike, Buzzard found a way through the toughest of times.
Over the years, Bozeman became his home where strangers became friends and friends became family.  People looked out for him – from numerous loyal storekeepers who employed him to make their shop windows inviting, to his circle of friends at the library, HRDC and Wild Joes, and to those who joined together to help him navigate his medical care. It's taken a community to keep him safe and to help him maintain his physical and mental health, 
Buzzard is survived by his mother Theresa D Nelson, his brothers David and Thomas and sister Greta, his son Jed Marston and grandchildren Phoebe and Oliver who both share their grandfather's love of art and music.  He will be missed by many and remembered for his art, music, charm, kindness, love of good food, and friendship. Those who had the chance to cross paths with this unique, selfless, loving man would all agree that their lives have been forever enriched.
In lieu of flowers, please consider a donation to this GoFundMe https://gofund.me/f08d986f dollars raised will help with end-of-life expenses.  A celebration of Buzzard's life will be held on Tuesday, November 29th at Wild Joes on Main Street from 6-9 pm with tributes and story sharing at 7.  All are welcome.