Jeffrey Foucault & Billy Conway one of many Attic shows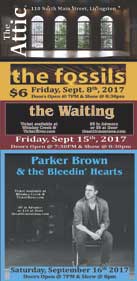 Following on Thursday, September 14th, check out Jeffrey Foucault & Billy Conway with special guest Christy Hays at 8pm. Tickets are $18 in advance and $20 at the door. Doors at 7pm. One of the finest songwriters of his generation, Jeffrey Foucault has taken, in his own words, "the small roads," building a brick and mortar independent international touring career of ten studio albums, countless miles, and critical accolades. He's been lauded for "stark, literate songs that are as wide open as the landscape of his native Midwest" (The New Yorker), and described as "quietly brilliant" (The Irish Times), while catching the ear of everyone from Greil Marcus and Don Henley (who regularly covers Foucault in his live set), to Van Dyke Parks (who offered to play on Foucault's Horse Latitudes after catching a live radio interview).
Foucault's latest album, Salt as Wolves, was titled in reference to a line from Othello describing boldness — a fitting title to frame a record of blues played bold and loosely, without rehearsal or cant. With his fifth collection of original songs Foucault stakes out and enlarges the ground he's been working diligently all the new century, quietly building a deep, resonant catalog of songs about love, memory, God, desire, wilderness and loss. Salt as Wolves gives us Jeffrey Foucault at the height of his powers, fronting an all-star band, turning the wheel of American music. Since 2013, Foucault and Morphine drummer Billy Conway have toured across the United States and overseas together, refining a primal, stripped-down stage show: two men, two chairs; a Sears Silvertone electric tuned low and played through a 5-watt amp; a suitcase kick drum, a low-boy cymbal, a snare drum. The pair play only what they can carry into the club alone in one trip, and cover all the territory from blues and country, to rock 'n' roll and folk with a laconic ferocity and timeless cool. Their dynamic partnership — as nimble as it is sonically powerful — is the bedrock from which Salt as Wolves builds an eerie and muscular existential blues.
The Waiting will bring a show on Friday, September 15th at 8:30pm. Advance tickets are $5 and also available at the door. Doors at 7:30pm. Comprised of six musicians from various musical backgrounds, the band has come together to bring you Roadhouse-inspired rock 'n' roll and the music of Tom Petty & The Heartbreakers. The Waiting is Rick Winking (guitar), Levi Main (guitar, vocals), David Dyas (vocals, guitar), Pete Christensen (keys), Doc Wiley (bass), Jason Kechely (drums).
Parker Brown & The Bleedin' Hearts are set for Saturday, September 16th at 8pm. Tickets are $8 in advance and $10 at the door. Doors at 7pm. Blending elements of American folk music, jazz fusion, soul, rock, hip-hop, and neo-mysticism, Parker Brown and his band bring listeners an experience equal parts groove, exuberance, and contemplation. These guys have played together in jazz combos, acoustic sessions, and rock bands for years, and this aged integration becomes apparent in the contagious energy of their shows. You may jump for joy and you also might cry as you partake in the dappled sounds of Brown and his buddies. Advance tickets to all shows are available at www.whiskeycreekmontana.com. The Attic is located at 110 N Main St. in Livingston, just above Whiskey Creek Saloon. •