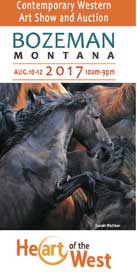 It's back! The 2nd Annual Heart of the West Art Show & Auction will be held Thursday through Saturday, August 10th–12th. Returning to Bozeman's Best Western Plus GranTree Inn, 1325 N 7th Ave., exhibit booths are open from noon–9pm on Thursday, and 10am–9pm on Friday and Saturday. The event will consist of 50+ premier contemporary artists of the American West exhibiting in a studio setting, quick finish artist demonstrations, live music, and a live auction on Saturday afternoon. Artists on display will include Michael Blessing, Naomi Gray, Sarah Richter, Robert Krogle, David Mayer, Michael Ome Untiedt, Nancy Dunlop Cawdrey, Daryl Howard, Morgan Irons, and so many more!
Heart of the West gives Western art lovers a unique opportunity to meet and talk to their favorite artists while enjoying food, drinks, demonstrations, and educational presentations. Attendees inevitably connect and bond over a shared love of fine art while supporting local, regional, and national artists.
The live auction, featuring live online bidding, will offer roughly 100 lots of contemporary and consigned artwork, plus numerous pieces created onsite during the quick finish artists' demonstrations in benefit of local non-profit organizations like Museum of the Rockies.
Find a detailed schedule of activities and check out the amazing artwork in advance at www.heartofthewestart.com. ALL events are FREE and open to the public. Come enjoy the finest art in the American West! •