The Broads Are Back! At The Emerson Cultural Center
Thursday, Friday & Saturday
November 16, 17 & 18
8:00pm
Broad Comedy Tickets on Sale Now!
At www.broadcomedy.com and at Cactus Records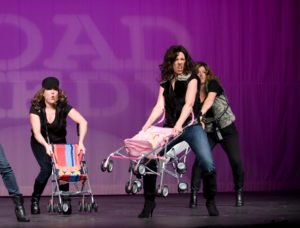 18 and over only. General admission and some VIP seating available. See website for details. Doors open at 7pm. Tix $25 in advance, $28 at the door, $40 VIP reserved seats. Part of Downtown Bozeman's Ladies Night on Thursday! And Special Student Rush tix for Thursday night only $15!
THE BROADS ARE BACK with an ALL-NEW SHOW! Currently running Off-Broadway in New York City and voted as Bozeman Magazine's "Bozeman Choice" Best Comedy Group, Broad Comedy is a nationally-known and internationally-touring comedy show that presents their all-new show with a first-look sneak peek at the new material in Bozeman every November, and has done so for the last 19 years!
A full line-up of brand spankin' new sketches and songs, guaranteed to leave your laugh-muscles hurting and your mother-in-law embarrassed. Featuring Bozeman favorites Katie Goodman, Louise Musial, and Cara Wilder, and making their debut Bozeman appearances, flying in from NYC where the Broads have a new NYC-based cast, Molly Kelleher and Tana Sirois!
If Amy Schumer and Full Frontal with Samantha Bee had a baby, and Trevor Noah was the manny, you might get something as irreverent and on-point as BROAD COMEDY. The troupe is five smart and hilarious, multi-talented women who can do it all — sing, dance and tackle political satire. The Broads are famous for high-energy musical numbers, left-wing politics, women's issues, and R-rated shenanigans. Written by Goodman and husband Soren Kisiel, you can be sure, in this year's political climate in particular, these writers have a few things to say!
If you haven't seen 'em, Broad Comedy is Bozeman's loveable and provocative women's musical satire and sketch comedy show. And if you haven't seen them, you are among the few. With Youtube hits reaching over 2 million, Broad Comedy is making a name for itself nationally. Goodman, Kelleher, and the NYC-based cast are presently performing Off-Broadway in New York City.
After a year like this, Broad Comedy's show will ease our collective political blues and revive the satirical spirit. However, it's not all politics, thank God. Spoofs about The Real Housewives of Bozeman, and other less mentionable subjects that will have you rolling in the aisles.
To check out what you're getting yourself into, go to www.broadcomedy.com and check out the videos and reviews. Hailed as one of Bozeman's greatest assets by numerous media outlets both locally and nationally, this is a show you don't want to miss! And men, don't let your women go without you! They have hundreds of male fans who come every time. However, if you're up for a Girls Night Out, join them for the Thursday show as a part of Downtown Bozeman's Ladies Night! For all 3 nights there are VIP reserved seats for purchase with no waiting line and reserved excellent seats. For more information: 406-522-7623, or www.broadcomedy.com/tickets.