Bobcat Football Schedule '17-18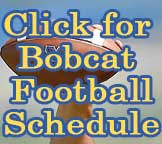 Bobcats Welcome Familiar Foe for 2017 Gold Rush
By Danny Waldo
When the Montana State Bobcats take the field on their home turf for the first time in the 2017 season in their annual Gold Rush game, they'll be doing so against an opponent that should be anything but unfamiliar to the Blue and Gold faithful.
South Dakota State will make their second appearance at Bobcat Stadium in the last 5 years, with their last appearance being in the opening round of the FCS playoffs in 2014, a 47-40 shootout victory for the Jackrabbits.
The Bobcats were done in on that snowy day by a one-man wrecking crew by the name of Zach Zenner. Zenner torched the Bobcat defense for 252 yards and 4 touchdowns on the ground to go along with 2 catches for 72 yards and an additional touchdown. Zenner was just the second running back to gain over 200 yards in Bobcat Stadium (Chadron State's Danny Woodhead accomplished the feat in 2006), and partnered with SDSU's quarterback Austin Sumner to provide an unstoppable force that MSU couldn't quite overcome.
That snowy playoff game also served as a coming out party for a future star at MSU as well. Then sophomore Chad Newell filled in for an injury-depleted backfield and churned out 101 yards and 5 touchdowns to match Zenner's scoring. Newell's five scores tied a Bobcat single-game record.
But the stars of that last matchup have all moved on, and the fortunes of the programs have been on different trajectories since. SDSU has been to the FCS playoffs five consecutive seasons, while MSU has struggled through two consecutive losing seasons and a coaching change. SDSU is coming off a conference championship, and is many pundits pick to win the Missouri Valley again this year, while Montana State has been slated to finish in the bottom half of the Big Sky Conference.
Much like the last time these two teams met, there should be plenty of offense to go around as several key playmakers return for both squads, highlighted by a pair of record-setting quarterbacks. For the Jackrabbits, Taryn Christion returns as the reigning Missouri Valley Conference Offensive Player of the Year. The 6'2 junior from Sioux Falls, SD set or tied 11 single-game or season records while earning STATS FCS Third Team All-American status, in addition to being named a Walter Payton Award finalist. Christion threw for 3,714 yards and 30 touchdowns to go along with 335 yards rushing and an additional 6 touchdowns.
MSU counters with sophomore Chris Murray, who broke onto the scene in a Week 5 contest at Sacramento State after rushing for 198 yards and 3 touchdowns. Murray would go on to start MSU's final 6 contests, culminating with a 24-17 victory over rival Montana in Missoula, becoming the third freshman quarterback to achieve that feat in the 21st century, etching his name in Bobcat lore along with DeNarius McGhee and Travis Lulay.
The early season matchup could have serious playoff implications for both squads in the big picture, but more importantly, it should give the Bobcats a good idea about how they stack up against one of the nation's elite teams.
Kick-off for the 7th annual Gold Rush game at Bobcat Stadium is slated for 6:00 p.m. on Saturday, September 9th, and can be seen live across Montana on SWX Montana.
Danny Waldo is a local freelance writer, covering MSU and Bozeman High School sports.