Texan singer/songwriter brings country back to basics
Texas country music star Zane Williams comes to Bozeman in early April in support of his latest album Bringin' Country Back. More than a catchphrase, "Bringin' Country Back" is a rallying cry for a return to authenticity and substance in mainstream country music, and a fitting title for his sixth studio album.
"I think of country music as poetry for the common man," Zane says reflectively. "The stories that draw you in, the simple truth stated in a way you wish you could've said…there's an honesty to country music that totally grabbed me the first time I heard it."
In anticipation of his pair of Bozeman performances, The Rolling Zone was able to get Zane on the phone to talk industry life, making music on his terms, inspiration and aspirations.
RZ: Hey Zane. You're leaving your home state of Texas to come see us in Montana. How does it feel to tour your brand of country music, around the country?
ZW: I love it. The main reason we got the bus a few months ago was so we could start going further abroad more often. I get excited when I look on the calendar and see something other than Texas. There's some good vibes, good excitement [with] a lot of the shows we've been doing. People seem to be fans of the Texas music scene — they're hungry for some real country music that has some authenticity to it. [People] have been listening to my music for a while, but I've never played anywhere within three, four hundred miles. So finally, there we are. They get to come out and that's kind of cool, it's fun.
RZ: You've got a couple shows planned for Bozeman — a likely rowdy performance at Mixers Saloon and a more intimate one at Live From The Divide. What can we expect from these?
ZW: What we do and what we've developed over time, we'll probably do two fairly different shows. I've been doing this for a long time, so I've got a pretty big catalog to pull from when it comes to putting together a show. [At Mixers], we'll play more up-tempo stuff with a lot of fiddle, three-part harmonies, and songs people can dance to. We've got some medleys of some of my favorite hit country songs from the past — we get everybody singing along. It's a concert, but it's a little more of a party type of a situation.
RZ: And at Live ?
ZW: We're going to be doing something I call the full-band acoustic show. My electric guitar player switches to mandolin, my bass player plays upright bass, and we strip the drum kit way down to just a snare and a kick. Then we essentially turn ourselves into a rootsy, bluegrassy-type acoustic country band. I pull out a different set of songs there, because I love that sound and I write songs that fit well with that sound, we just don't usually do them. There's a little bit more of a storytelling vibe, so it gives me the luxury of taking [the audience] on a journey with my lyrics.
RZ: Let's talk your latest album, Bringin' Country Back . Tell us how that title represents this collection and where you are in your career today.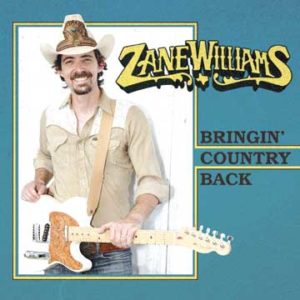 ZW: I wanted to make a down home, good ole country record. The more I do music, the more I gravitate towards a classic, authentic country sound. The songs I wrote fifteen or twenty years ago that I still sing today tend to be not so much the trendy or poppy ones, but the ones that are built on a great melody, a great story. There's something about those classically-country instruments — the steel guitar, the telecaster, the fiddle, then those acoustic instruments like the mandolin, the dobro, the banjo — that just stand the test of time. You hear music that fifty years old, twenty years old, and today that has those elements and it just works. Those instruments lend themselves well as a vehicle for a great country song about real life.
RZ: How did that sound work its way into this album?
ZW: I co-produced most of my other records, but Bringin' Country Back is the first record I've ever produced myself. The other first, I used my live band as the core studio band. That gave us a chance to work on the arrangements in a low-pressure setting, and I feel like the musicians have a little bit more of an ownership in it. They're playing what they're feeling from the heart. It's real, and there's quality musicianship. It's funny — I don't like it when music is sloppy or unprofessional, but at the same time I don't like it when music is too slick and everything's perfect and it's all auto-tuned. Finding that balance between having great players, great songs, and great parts, but also a relaxed enough atmosphere to where some heart and soul can come across too. Not everything has to be exactly perfect. I don't think it's a groundbreaking album of any kind, but it's very easy to listen to, the kind of record you can stick on while you're sitting out on the porch watching the sun go down with a cold beer in your hand. It just kind of feels like home to me.
RZ: You write your own material and inspiration has been known to strike while you're busy with the day-to-day. How do you decide when something or someone is worthy of a song?
ZW: It's tricky. It's mysterious why I wrote a song in the first place. You get this idea in your head that just won't shut up, it won't go away. That's that little inner voice telling you this should be a song. If I can forget about it, that probably wasn't a good song. A lot of times, I'll have been thinking about a certain topic for a while — what's going on in the news, a life situation you or somebody you know is going through — then one day a guitar riff or a title will pop into your brain that seems to fit musically, a song sort of flows out from that. And especially whatever music I've been listening to at that time, maybe a lot of bluegrass or old Texas singer/songwriters, that'll influence it too. I have this idea, [then] it all comes together to make a song.
RZ: You're celebrating 10 years since your debut release. Did you imagine then you'd be where you are now?
ZW: That's a good question. When I came out with Hurry Home, I'd actually already made three, four, five albums I just don't like, don't sell anymore, and that I'm not proud of. In 2006 I'd been living in Nashville for six or seven years, I'd made an album or two and pitched around to some major labels. It was a situation where I was tired of trying to be the mainstream act the major labels were looking for. I just wanted to have one daggone album in my life that I could actually be proud of for the long term. I still love to listen to that album, I worked real hard on it for a long time. I really went through the ringer — remixing, remastering — to try and get it where I wanted to.
RZ: What prompted your return to Texas from Nashville?
ZW: Ten years ago, I was still in the mindset of living in Nashville and getting some kind of record deal. I tried being just a songwriter, and I tried Americana, folk, mainstream country. None of them seemed to be a good fit. It was really a couple years after that I kind of gave up on music and moved back to Texas. The whole Texas scene, the whole touring career and fan base I've built is not something that was on my radar ten years ago. I was kind of at the end of my rope and out of options when I left Nashville. Texas country has been a home and a good fit for me that I'm definitely thankful for. And I'm thankful for the fact more and more people are asking for that real, traditional country sound and getting into independent artists. I can do my thing and not have to go down the major label road, but not have to resort to just being a songwriter either. I can still do what I love to do — make records and tour.
RZ: You've had some pretty amazing experiences in the last decade, including a trip to the Grand Ole Opry.
ZW: It was great. It was just two songs, [so] it went by quickly. I wasn't near as nervous as I'd thought I'd be. By that time I'd been doing music for fifteen years, and there's a very laid-back atmosphere there. It's homey, unpretentious. Backstage, Ricky Skaggs was tickling my kids. I had my wife there, my parents, my brother, my in-laws. The coolest thing about it was that it was kind of like a reunion with family and friends. We had an after party at this little honky-tonk, The Nashville Palace. I'm looking around the bar, and there's my parents who never go to bars, then there's my family from Kentucky, my fans from Texas, and my wife and kids who never come to my shows anymore. It was just fun to look around and see a lot of the people I love all in one spot. In that sense, it felt like a little bit of a celebration of my career, my music. It was bigger than singing a couple songs. It was a milestone, let's all come out and celebrate what has been achieved together. Hopefully there will be reasons to celebrate in the future, but I'm cool. I'm doing what I love to do. Whether I keep moving upward from there or not, I'm pretty happy.
RZ: Are you back to work on any future projects?
ZW: I've got tons of plans. I'd love to come out with a live album. Then I do these things where I ask fans for ten random words and I write a song that has all ten random words. I've done twenty or thirty of them, and fans are always asking me to come out with an album of those tunes. Maybe just me and a guitar, I might do that someday. Then of course I'm working on stuff for my next full studio album. I'm excited about some of the new tunes I've written. I think it's going to have some more of that bluegrass, acoustic influence. I had a lot of that on Hurry Home, so it feels like maybe time to do another record like that. Those are all things in my brain. As it is, I may be lucky if I just get one of those done this year.
Zane Williams brings an energetic show to Mixers Saloon on Thursday, April 6th at 10pm. Tickets to this 21+ party at Bozeman's only country bar are $15 in advance at Mixers only and $20 day of show. Doors at 8pm. Zane will bring a performance to Live From The Divide on Saturday, April 8th at 9pm. Tickets are $38 available in advance at www.cactusrecords.net and at the door. Doors at 8pm. Learn more about Zane and discover some of his music by visiting www.zanewilliamsmusic.com Bringin' Country Back is available for download now from all major digital music services. •