Symphony redux concerts bring scores of classic films to Willson
Celebrate the cinematic wonder of some of our collective favorite films with a special musical presentation by the Bozeman Symphony.
The rescheduled John Williams: 90th Birthday Bonanza will bring the scores of classic features to Bozeman audiences this month. Performances will be held June 24th–26th at the Willson Auditorium in Downtown Bozeman. The Friday and Saturday shows begin at 7:30pm, then again on Sunday at 2:30pm.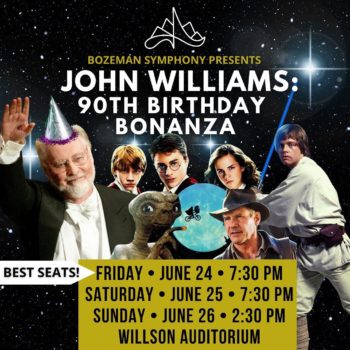 Bozeman Symphony will present an entire concert of music by John Williams. Hear your local symphony perform themes from timeless film classics such as Star Wars, Harry Potter, E.T., Jurassic Park and more. Audiences will also be able to test their knowledge of Williams with conductor Norman Huynh's curated trivia game. This concert is perfect for all ages to celebrate one of the world's most beloved composers.
Adult admission for the 'John Williams: 90th Birthday Bonanza' begins at $27 with discounted student tickets available. Tickets for all Bozeman Symphony performances may be reserved in advance at
www.bozemansymphony.org
or at the door, based on availability. Those interested may also visit the Symphony offices, located at 1001 W Oak, Ste. 110, or call (406) 585-9774 for further details.
Please note: tickets purchased for the postponed January concerts will be honored
. •