Suds-assisted silliness at Oktoberfest starring the Brewery Follies
Enjoy one last hurrah before the snowy season when Rockin' TJ Ranch presents the revival of its annual Oktoberfest celebration on Saturday, October 16th from 7–9:30pm. "Beer, Brats & the Brewery Follies" will feature an evening of fun, laughter and brews as this wacky, zany comedy troupe returns in 2021.
If you haven't had the opportunity to see the Brewery Follies in Virginia City, here's your chance! A $65 per person admission includes a juicy bratwurst bar, frosty mugs of beer, the hilarious Brewery Follies show, and more! Space is limited, so reserve your seats NOW by calling (406) 585-0595. This event is for those 21+. Find Rockin' TJ on Facebook for updated event information.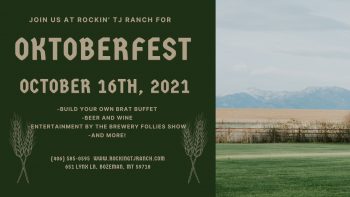 The variety show is highlighted by celebrity impersonations, sketch comedy and live music. The mission of this hilarious comedy cabaret is simple: to make you laugh while these crazy entertainers make fun of just about everything you can think of.
Rockin' TJ Ranch is located four miles west of the Gallatin Valley Mall at 651 Lynx Lane. Visit www.rockingtjranch.com for further information about the venue, booking options, and other upcoming events. •