As part of its latest season, Verge Theater continues to showcase local theater with a run of Jacob Richmund and Brooke Maxwell's comedic musical at the Emerson Center for the Arts & Culture. Tickets are now on sale for Ride the Cyclone, with performances set for November 17th through December 10th. Thursday, Friday and Saturday performances begin at 7pm, with Sunday matinees to follow at 3pm. The Dec. 8th performance begins at 8pm following the Winter Art Walk.
In this hilarious and outlandish story, the lives of six teenagers from a Canadian chamber choir are cut short in a freak accident aboard a roller coaster. When they awake in limbo, a mechanical fortune teller invites each to tell a story to win a prize like no other – the chance to return to life. This popular musical is a funny, moving look at what makes a life well-lived.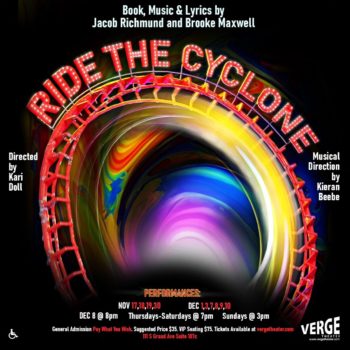 The local Ride the Cyclone cast includes Adler Lovell, Abby Mize, Corey Barrows, Brian Kassar, Cary Wahlborg, Keith Krutchkoff and Nathaniel Rausch.
Under the direction of Kari Doll with musical direction by Kieran Beebe, tickets for Ride the Cyclone are available for purchase now. Cost for admission is on a pay-what-you-wish basis with a suggested price of $35. VIP admission available. Visit www.vergetheater.com for reservations and further information about educational opportunities for aspiring thespians. •