Step into regional history with new MOR exhibit & a returning favorite
Alongside its famed Siebel Dinosaur Complex, a new exhibit moves into Museum of the Rockies this summer. Apsáalooke Women & Warriors opens May 28th and will be on display until early September.

The Apsáalooke [ap-SAH-loo-gah] people of the Northern Plains are known for their bravery, artistry, and extravagance. Celebrate the prominence of women, daring feats in battle, unparalleled horsemanship, and innovative beadwork. Alongside historical war shields and regalia, contemporary Native American art highlights how this bravery and artistry is alive today.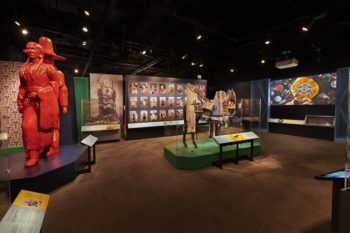 A visiting exhibit from Chicago's Field Museum, Apsáalooke explores the history, values, and beliefs of this Native American community known for their horsemanship, artistic pursuits, and matriarchal ways of life, and honors the tradition of "counting coup" – performing acts of bravery. Visitors will learn about Apsáalooke origins, cultural worldviews, and the powerful roles that both women and warriors hold in the community through a unique mix of traditional objects and contemporary Native American pieces from the perspective of guest curator Nina Sanders.

MOR's Living History Farm also opens for the summer season on May 30th, allowing visitors to experience what life was like in the Treasure State more than 100 years ago.

In 1989, the Tinsley House was relocated to Museum, bringing with it the history of Montana's homesteading era. Skilled costumed interpreters will take you back in time as they cook over a wood-burning stove, demonstrate cooking skills and recipes from the 1890s, tend to the Heirloom Garden, and forge iron in the blacksmith's shop. Take time this summer to enjoy the beautiful sights of the garden, the smells of home cooking, and the history of a time gone by that lives on today.
The Living History Farm is included with Museum admission. Hours are 11am–5pm, Monday through Saturday, and noon–5pm on Sunday.

MOR is open from 9am–5pm daily. For more information about featured exhibits, membership details and to make an optional reservation, visit www.museumoftherockies.org. •