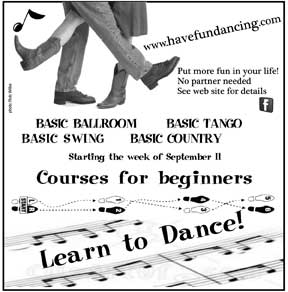 Put more fun in your life!
Learn something new this fall! Put more fun in your life and learn to dance. Registration is now open for dance classes at Have Fun Dancing. Basic Ballroom is a great fundamentals course. Or choose Basic Country, Basic Swing, Basic Samba or Basic Tango. Courses meet different nights of the week and cost $61 per person.
Dancing is a great way to meet people, acquire a useful social skill and get exercise. Feeling comfortable on the dance floor has many benefits: social, physical, it's good for the soul! It's fun for single people and for couples. Have Fun Dancing has a friendly atmosphere and a double sprung dance floor and we hold parties so you can practice what you learn.
New courses begin the week of September 11. Check out our web site for details and how to register: www.havefundancing.com