Journey to Virginia City for riotous revue – and a brew!
Audible laughter has returned to Virginia City's historic H. S. Gilbert Brewery, as the Brewery Follies continue this summer. The variety show is amidst another sunny stretch of celebrity impersonations, sketch comedy and live music. This hilarious comedy cabaret – accompanied by your favorite Montana microbrews and standard domestics – will leave your stomach muscles sore for days from laughing and guffawing.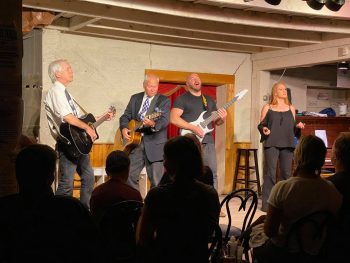 The mission of the Brewery Follies is simple: to make you laugh while these crazy entertainers make fun of just about everything you can think of in today's political and social landscape. However, you might want to find a sitter for the kids – with laughter and beer on tap, some of the Follies' antics can be pretty irreverent. Of course, the nasty "four letter words" are left out, but the jokes might mean what "those" words mean. The Brewery Follies is rated well beyond PG-13!
The Brewery Follies' 2021 Season runs through September 18th. Showtime is at 8pm, Wednesday through Saturday. Two 4pm matinees also take place on Saturday and Sunday afternoons. Reservations are required by phone only. Call (800) 829-2969 ext. 3 to make yours!
This comedy show will keep you talking for days! Due to mature content, parental guidance is suggested. Learn more at www.breweryfollies.net. •