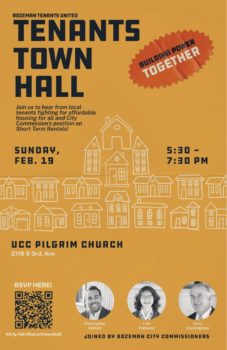 Join our Tenant Town Hall on Sunday, February 19th from 5:30-7:30PM
at Pilgrim Congregational UCC (2118 S 3rd Ave.)
We will be joined by Bozeman City Commissioners
Terry Cunningham, Christopher Coburn and I-Ho Pomeroy.
Our Town Hall is by and for tenants. During the town hall we will:
– Center tenant stories and experiences of the housing crisis
– Get you plugged into our campaign for affordable housing
– Hear directly from decision-makers in Bozeman
This will be the biggest housing event in Gallatin County –
so bring your friends and family and arrive early to grab a seat!
*Bozeman Tenants United is a multi-racial, cross-class movement  building a multi-racial, intergenerational mass membership of tenants, to win safe, dignified and affordable housing for all!*
*Contact Benjamin 406-599-0663 for more info*