Bozeman Film Society continues its 2023 season with two upcoming screenings this spring. The first is a Cannes Palme d'Or nominee and New York Times Critics Pick on Wednesday, May 17th. Showing Up screens at the Emerson Center for the Arts & Culture at 7pm.
A deceptively simple drama about the artist's life, Showing Up reunites director Kelly Reichardt and Michelle Williams to absorbing effect. Preparing to open a new show in Portland, a sculptor (Williams) must balance her creative life with the daily dramas of family and friends, in a vibrant and captivatingly funny portrait of art and craft.
Directed and co-written by Reichardt (Wendy and Lucy, Certain Women, First Cow), the film stars Williams alongside Hong Chau, Maryann Plunkett, John Magaro, André Benjamin, James Le Gros and Judd Hirsch. Rated R with a runtime of 108 minutes.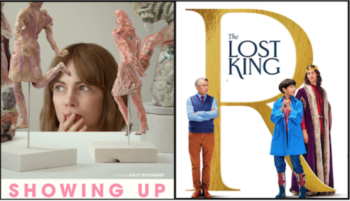 Following at 7pm on Thursday, June 1st, is fellow New York Times Critics Pick The Lost King. It will also screen at the Emerson.
In 2012, after having been lost for over 500 years, the remains of King Richard III were discovered beneath a carpark in Leicester. The search had been orchestrated by an amateur historian, Philippa Langley, whose unrelenting research had been met with incomprehension by her friends and family and with skepticism by experts and academics. The Lost King is the life-affirming true story of a woman who refused to be ignored and who took on the country's most eminent historians, forcing them to think again about one of the most controversial kings in England's history.
"A historical detective story that carries the kick of a true-life Da Vinci Code." – Variety
Directed by Stephen Frears, the film stars Sally Hawkins, Steve Coogan, Harry Lloyd and Mark Addy. Rated PG-13 with a runtime of 105 minutes.
Reserved tickets for Showing Up and The Lost King are $10, or $7 for MSU students. Wine, beer and concessions will be available prior to the screening.
Find ticketing access and learn more about the current season at www.bozemanfilmsociety.org – and Keep 'Em Flickering! •