by Skip Anderson
Paul Durham and his band Black Lab helped shape the West Coast post-grunge music scene in the mid/late 1990s. In addition to leaving his mark on the Alt Rock and Top 40 charts with MTV-fueled hits like "Your Body Above Me" and "Time Ago," Durham's music has long been a favorite of television and film. His refined sound had just the right around of alt-rock angst to be an effective table-setter for many mainstream projects, including the blockbuster movie Spider-Man, as well as binge-faves TV shows such as The Shield, House M.D., Banshee, Pretty Little Liars and Buffy the Vampire Slayer, to name a few.
Durham was at ground zero when Napster and vitriolic market forces destroyed longstanding business models. The ground where the music industry stood had been replaced with an apocalyptic wasteland. Rather than rebuild from the rubble, Durham opted to move to Bozeman where he focused on raising his son. Although he continued to write and record from Bozeman over the next two decades, it wasn't until this spring that he began to perform again before live audiences. Performances around Bozeman include Live from the Divide to support his recently released debut solo album, This Sweet Life.
When did you come to realize you had the talent necessary to build a successful career in music?
I always sang while growing up in Twin Falls, Idaho. I started a lawn-mowing business when I was 10, and I just started making up a lot of songs while pushing that mower. Lawn mowing and dishwashing are the perfect activities if you want to write a song. They take up only enough mental capacity to remove your self-consciousness and help you connect with your flow. I tell my songwriting students, don't listen to music in the car, don't listen to a podcast when washing dishes. Giving yourself free time allows your creative expression to bubble up.
Did you already play guitar by then?
I learned to play after I dislocated my shoulder three times, and I needed something to do other than skateboarding. I learned "Knocking on Heaven's Door" and then just started writing. Somebody told me once you can play that song you can play just about anything. I mean, it only has four chords – three if you cheat a little. But what I was listening to was aggressive music to skateboard to. Minor Threat, the Descendants, the Buzzcocks, and Mudhoney were high on my list. Turns out, that in the age of hair metal, I was listening to the proto-Green Day and Nirvana bands.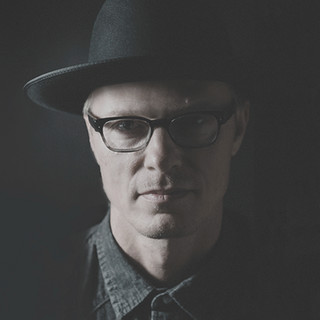 So, what took you to California?
I went to Oberlin where I got a degree in philosophy. I did my honors thesis on Nietzsche and he talked me out of being a professor. Oberlin is a big music school. So, I was writing and recording while there. After college, I moved to the Bay Area with a girlfriend. I started a roots band there in the vein of Camper Van Beethoven or Counting Crows. We opened for the Counting Crows as well as Cracker. Also during that time, Cake and Train opened for us. So, we were in the mix. When we didn't get signed, I knew I wanted to make a big, post-grunge rock band. So, I put together Black Lab.
How long did it take Black Lab to get a major label record deal?
Actually, I got signed first, then I put the band together. Geffen Record's A&R guy had come to me and said, "I hated your old band, and I hated your management. But I love your potential. If you're telling me you are done with both, I'll sign you to a record deal."
When Black Lab's debut album, Your Body Above Me, came out in 1997, MTV was still very much airing music videos. And it seems you guys were really setup to capitalize on that forum.
Right. We were on 120 Minutes and our videos got play. Our first song, "Wash It Away," was a Top 5 rock and alternative track. But it never got a lot of MTV action. Our second single, "Time Ago," was a Top 40 hit. Things were going great, then Geffen went out of business. It happened so fast. One of the first signs of the monumental changes within the industry was when the record companies stopped sending coke through FedEx and switched to more mundane swag to get the attention of programmers. For us, they sent out analog clocks to 1,000 radio stations to promote, "Time Ago." They even sent a refrigerator to the back door of one of the most influential programmers in the country. We knew then that the record industry was in decline.
Who were some of your label mates at Geffen?
Sonic Youth, Nirvana, Counting Crows, and the Eels come to mind. We opened for the Cure, the Foo Fighters, Green Day, Our Lady Peace. They did a good job getting us out there. It all just ended too soon.
But then you landed another record deal.
Right. We did. I moved to LA and got a new record deal. We got a song on the soundtrack of Spider-Man, then the label lays off half of its employees and I get dropped. Fortunately, I had had it in my contract that if they didn't put the record out, I would either get my masters back or they would pay me a lot of money. After that, I said, "Fuck LA." I wanted to go someplace where I could raise a kid. So, I took the masters to the unreleased album, moved to Bozeman, and I've been here ever since raising my son, and selling my music on the internet, and licensing my songs to film and TV.
You recently put out a wonderful new record, This Sweet Life. And you are beginning to perform before live audiences – as opposed to streaming – for the first time since before COVID. Let's talk about the record, first.
The records I have continued to make with Black Lab from Bozeman have been alternative and electronic records. So, that stuff simply doesn't translate into an acoustic solo show. Whereas, my new album gets back to my acoustic roots. So, I am genuinely excited to get to play these songs for people.
This record was born from tragedy.
Definitely. I wrote it while trying to recover from the sudden death of my girlfriend. I had been stuck in that space for a long, long time. When I did finally begin to process that loss, the songs that I wrote were so intimate and personal that I really thought I might never be able to put it out. But the songs were too good for me not to.
I agree. You delved into the intense emotions of grief and sorrow and came out the other side with a collection of songs of love and loss simplified to their steel-string essence. But there is also, in another spot or two, some rollicking bluesy swagger.
Thank you. I'm immensely proud of this record.
Before we go, are there any younger Bozeman-based young singer/songwriters that you think might have potential to emerge on a national scale?
I produced Ella Rae Cole's EP, so I'm probably biased, but I think she's a brilliant songwriter and singer. I also think Marcedes Carroll has a stunning voice, and she will really go far with it. Paige Rassmussen, too. She's an absolute powerhouse vocalist.
Skip Anderson is an award-winning music journalist based in Bozeman, Montana. •