Optimist Club of Bozeman Fishing Derby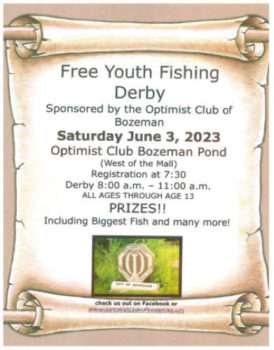 It is our pleasure to announce that the Optimist Club of Bozeman is hosting
their annual Fishing Derby on June 3, 2023.  This is a free event for
children up to and including 13 years old. Prizes for the biggest fish in 4
age groups as well as door prizes, snow cones and much more!  Come on down
to the Ponds park behind the mall, A/K/A the Breakfast Optimist Club of
Bozeman and City of Bozeman's Ponds park.  Bring your own rod!  If you do
not have one, we have some loaners on site, but supplies are limited.
Check us out on Facebook or at www.optimistclubofbozeman.org !!